Wankumbu Simukonda liked what he heard: No injected anesthesia, no surgery, no sutures.
Best of all: no down time.
It was May 2017, and Wankumbu, a 23-year-old communications student at the University of Zambia, was manning an audio console during a live, call-in radio program when the content of the conversation caught his attention.
The program's guests—HIV experts from Jhpiego—were talking about PrePex, an innovative nonsurgical option for providing voluntary medical male circumcision (VMMC).
Wankumbu was aware of the benefits of VMMC, a one-time health intervention that provides men with lifelong benefits, including partial protection against HIV. VMMC is proven to be effective in reducing the sexual transmission of HIV from women to men by about 70 percent.
The preventive strategy is appealing to lots of young men, and for good reason. Circumcision can save lives and plays a major role in turning the tide of the HIV/AIDS epidemic. In addition to reducing HIV infection, male circumcision decreases the risk of urinary tract infections and sexually transmitted infections (STIs) in men, protects against cancer of the penis, and prevents inflammation of the glans and foreskin.
Male circumcision also benefits women. It improves hygiene and reduces STIs, including the human papillomavirus, which can lead to cervical cancer.
Although Wankumbu had heard about the safety and convenience of surgical circumcision, he didn't know there was a nonsurgical option—even better suited to his busy schedule—until the Jhpiego guests appeared on the radio program he was engineering. Before the show ended, he made up his mind to visit the university clinic and start the PrePex procedure right away.
First, Wankumbu received two rounds of tetanus vaccine in preparation for a PrePex placement. Two months later, he became the first client at the University of Zambia to undergo a PrePex procedure. It took a trained provider only 5 minutes to put a PrePex device in place. PrePex works by applying controlled pressure to the foreskin between a rigid inner ring and an elastic ring to gradually stop blood flow. The devitalized foreskin tissue and device are removed after 7 days.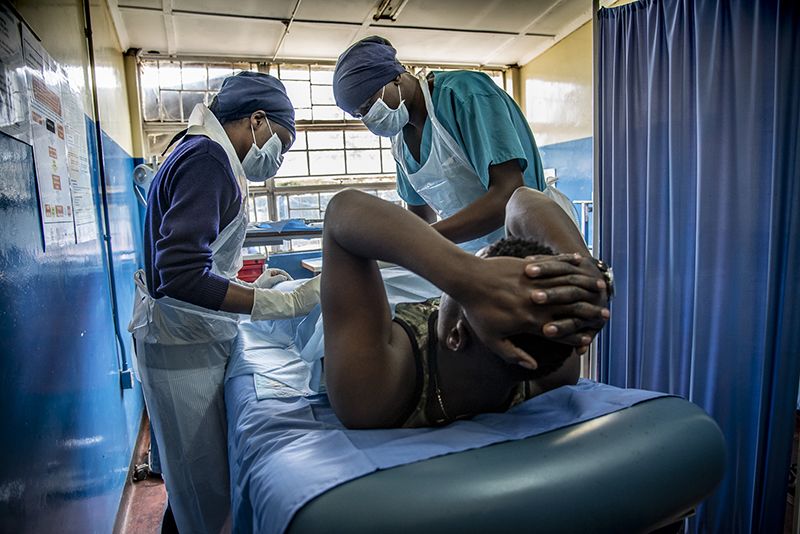 True to the assurances of the Jhpiego VMMC experts on the radio panel, Wankumbu never missed a beat with his studies. "From the [PrePex] placement room at the university clinic, I went for class [the same day] and from that day with PrePex on, I never missed class," he said.
Wankumbu and his university friends are among 84,651 men and boys in the past year who opted for VMMC for HIV prevention through a Jhpiego-led program in collaboration with the government of Zambia. Funding for the program came from the U.S. Centers for Disease Control and Prevention under the U.S. President's Emergency Plan for AIDS Relief.
Countrywide, most men underwent the surgical procedure. Offering PrePex as well as surgery expands VMMC options so that no man is left behind.
By deploying the latest proven interventions and a mix of inventive demand-creation approaches, the program is helping more men to make important lifesaving decisions and benefit from HIV prevention services.
Zambia has one of the highest HIV prevalence rates in the world (12.3 percent), with condomless sex and low levels of male circumcision helping to drive the HIV/AIDS epidemic. VMMC is an essential part of the Joint United Nations Programme on HIV/AIDS strategy for ending the epidemic by 2030.
After his experience, Wankumbu became a peer educator to inform fellow students on the benefits of VMMC. Since Wankumbu took the lead last July, 231 additional male students and staff have signed up for VMMC services at the university clinic.
Wankumbu's loud and clear outreach in favor of VMMC is vital as Zambia makes steady progress toward an AIDS-free generation.
Nephas Hindamu is a knowledge management and communications specialist for Jhpiego Zambia. Maryalice Yakutchik is Jhpiego's communications manager.
Jhpiego believes that when women are healthy, families and communities are strong. We won't rest until all women and their families—no matter where they live—can access the health care they need to pursue happy and productive lives.
Donate now!