Maybe you read about it in the New England Journal of Medicine, or heard the World Health Organization's announcement or saw Bill Gates' tweets about E-MOTIVE—a just-published landmark study in which Jhpiego played an integral role. 
If so, good news like this bears repeating. If you haven't heard about E-MOTIVE, we're happy to share our take on all the excitement that's swirling around an innovative method shown to reduce severe outcomes of postpartum hemorrhage (PPH)—excessive bleeding after birth—by 60 percent. 
You read that right: 60 percent—as in, this solution has the potential to topple the leading cause of maternal death. According to the World Health Organization (WHO), PPH claims a life every six minutes, mostly in low- and middle-income countries. In fact, an estimated 14 million women are affected each year by PPH, with some 70,000 dying.
Jhpiego has long anticipated a breakthrough like this, having worked tirelessly for decades to enhance and accelerate prevention and treatment of PPH, which can be a deadly complication of childbirth. However, no global health organization or donor has wanted—no, needed—a lifesaving accelerator more acutely than the midwives and nurses who manage women's care during and after labor in the settings where Jhpiego works. 
The findings from the E-MOTIVE study underscore the critical importance of early detection of PPH. So too is the willingness and ability of health care providers to offer a revolutionary first-response bundle of treatments, including uterine massage, oxytocic drugs, tranexamic acid and intravenous fluids, followed by examination and escalation of care when needed.
Jhpiego's expertise in training and mentoring nurses and midwives informed both the design and implementation of the E-MOTIVE PPH bundle research, spearheaded by WHO and the University of Birmingham, and funded by the Bill & Melinda Gates Foundation. The three-year, cluster-randomized trial involved teaching and mentoring providers on early detection of PPH and use of the treatment bundle and evaluating patient outcomes.
While each individual treatment component has been studied, and is currently in use, bundling the treatments together had not been studied. Of 80 total study sites in South Africa, Kenya, Nigeria and Tanzania, 40 hospitals were randomized as E-MOTIVE intervention sites, and 40 as control sites, which provided usual care.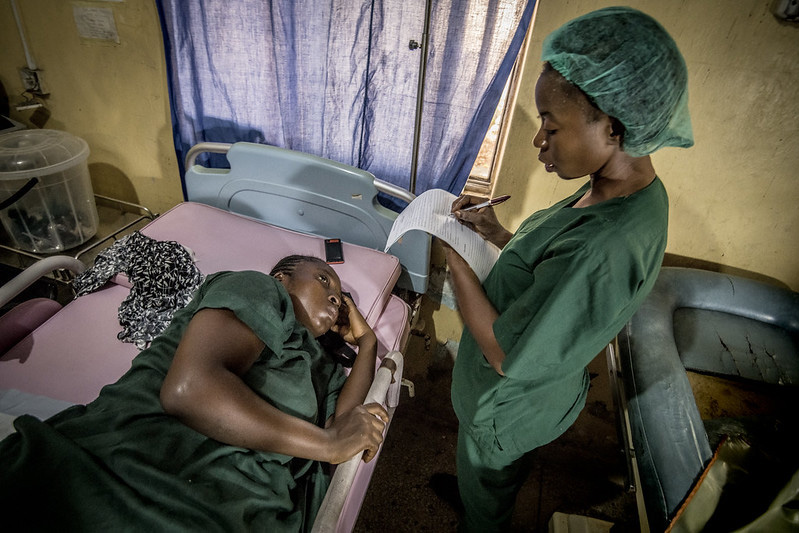 With Jhpiego's years of experience in the Helping Mothers Survive training and mentoring approach—low-dose, high-frequency—our expert country-based trainers and mentors prepared E-MOTIVE hub teams to train project trainers in the four countries involved in the study. Through a cascade of training of trainers, the hub teams in each country selected facility-based teams who they trained to train all providers at intervention hospitals to use the treatment bundle. We also mentored these E-MOTIVE trainers during their first hospital-based training and provided mentorship to support implementation of the bundle.
The goal was to achieve universal use of the PPH bundle by a wide range of providers working in facilities across the four countries, explains Cherrie Lynn Evans, DrPH, CNM, who is an E-MOTIVE co-investigator and senior principal technical advisor for maternal and newborn health at Jhpiego. The training, as Jhpiego designed it with inputs from the study team in Birmingham and WHO, challenged a constellation of attitudes, beliefs, habits and behaviors and, ultimately, changed clinical practices.
While training alone cannot improve health outcomes, it's a crucial component that needs to be done right. To get providers to change their clinical practice from the way they had been doing a certain thing to a new way of doing it, such as a clinical bundle, you need to train them.

Cherrie Lynn Evans
"At Jhpiego, that means targeted onsite training of providers together with their colleagues using hands-on methods and following up with mentorship and ongoing practice. This approach consolidates learning, allows for local problem-solving in real time, and improves outcomes of our clients."
Having demonstrated that near-universal uptake of the bundle by providers resulted in a 60 percent reduction of severe PPH outcomes, this study is well positioned to inform new PPH recommendations. A WHO Guideline Development Group is set to review the evidence in the coming months, with the outcome of that review available later this year.
Meanwhile, Jhpiego is ready to partner with local health systems to put these lifesaving tools in the hands of nurses, midwives and doctors around the world, says Lisa Noguchi, CNM, PhD, and Jhpiego's Director, Maternal and Newborn Health. "If approved by WHO and scaled with good fidelity, this strategy could be an extremely powerful tool for saving lives."
Maryalice Yakutchik is a senior writer with Jhpiego.
Jhpiego believes that when women are healthy, families and communities are strong. We won't rest until all women and their families—no matter where they live—can access the health care they need to pursue happy and productive lives.
Donate now!