Juba, South Sudan – Put yourself in Mary's shoes. Imagine being 17, living in South Sudan, and learning that you are HIV-positive.
Your family rejects you so you run away, desperate to keep your "secret" from others. You want to die and figure that stopping your antiretrovirals (ARVs) will hasten the end.
However, before despair wins out, you meet Lucia Abasi, a widowed mother and health volunteer who works as a "mentor mother." Trained by a Jhpiego-supported partner organization in South Sudan to educate communities about HIV and link people to services at the health facility, Abasi gently but firmly guides you back to home and health.
Abasi's work hinges on her ability to build trust and assure confidentiality. With patience and determination, she discussed the impact of Mary's HIV diagnosis with the teen's family and, together, they navigated her return to HIV treatment.
Stigma is a challenge for most people living with HIV, but especially for those like Mary who live in close-knit communities in South Sudan or in displaced persons camps where privacy is reduced to the plastic sheeting that separates one residence from another. Here, education is vital to dispelling misconceptions and convincing everyone that it's possible to live—and be healthy—with HIV.
Mentor mothers like Abasi promote prevention and treatment services by working in neighborhoods to establish rapport with communities as well as clients diagnosed with HIV or TB. To date, 45 mentor mothers have been trained by National Empowerment of Positive Women United, a Jhpiego partner on the Strengthening the Provision of Primary Health Care for HIV (SPPHC) project, which seeks to increase access to high-quality, comprehensive HIV care and treatment services for children, adolescents, women and families in the former Central Equatoria and Western Equatoria States. The project provides support to eight primary health care facilities with funding from the U.S. President's Emergency Plan for AIDS Relief through the U.S. Agency for International Development. In fragile states or conflict settings, access to quality health care and lifesaving treatment such as ARVs can build strength and resilience in women and families. Mentor mothers not only link people to facilities for care, but also build their self-reliance, empowering them to advocate for their own health.
Abasi heard about Mary during a home visit to a man with TB. The man's daughter described her friend's dire situation to Abasi, and agreed to introduce the two.
"I do not want everybody to know that I am HIV-positive,'' Mary told Abasi. "The reason why I ran away from home was because all my family members were pointing their finger at me that I have HIV. They would not share the same cup or eat with me . . . so I decided that I should commit suicide. I decided to stop taking the ARVs so that I could die very fast."
Abasi knew that Mary and her family had lots to learn, and not only about transmission and treatment.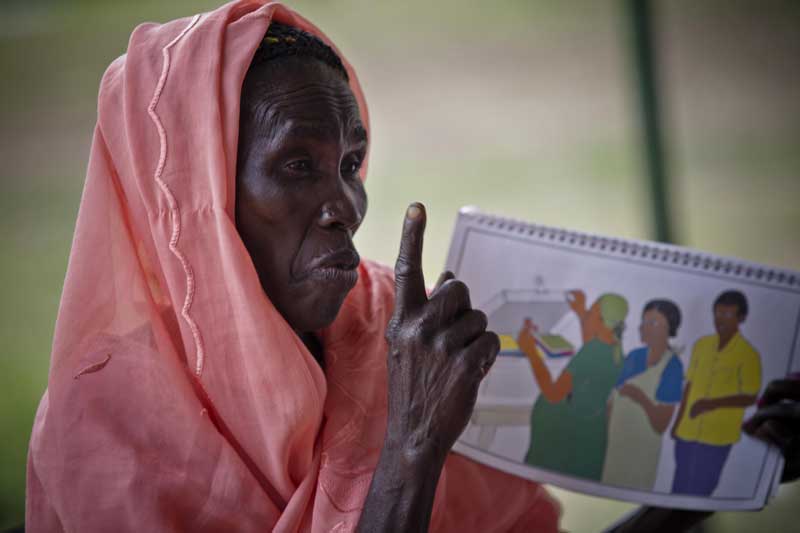 "The mentor mother went and talked to my parents about the issues of confidentiality," Mary said, crediting Abasi for alleviating their many concerns about her living with HIV. "The mentor mother has continued to follow me . . . and I am grateful."
Mary is home, adhering to treatment and planning a future. She hopes to move to the Uganda border to live with an uncle who promises to help her return to school. "The mentor mother called my uncle and talked to him," she said, educating him as well about HIV. "He accepted to take good care of me."
Victoria Natoni Daniel is a program officer with National Empowerment of Positive Women United, a partner on the SPPHC project in South Sudan.
Rosemary Poni is a program officer in Jhpiego's Juba office where she supports the SPPHC project.
Jhpiego believes that when women are healthy, families and communities are strong. We won't rest until all women and their families—no matter where they live—can access the health care they need to pursue happy and productive lives.
Donate now!