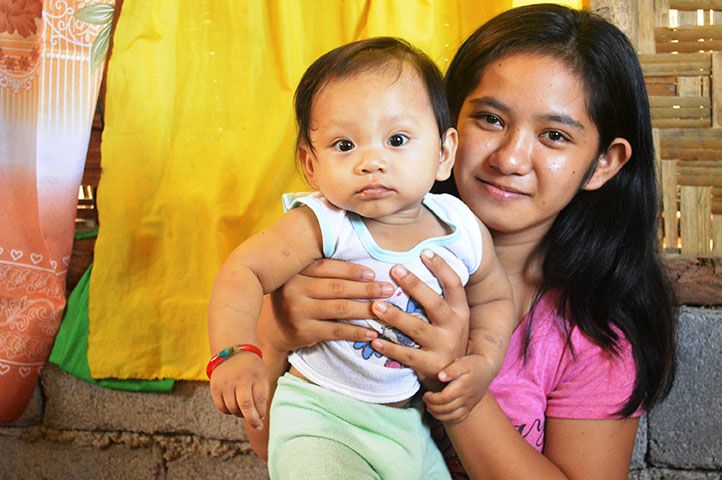 At 16, Garneth Sebial was like any other teenager. Her life was all about attending school, finishing homework and spending time with friends. She had also started exploring her sexuality. Her first sexual experience was at 14, but she kept this part of her life a secret, not discussing it with anyone, least of all her mother.
Her only confidante was her boyfriend: "My then-boyfriend assured me that I would not get pregnant. I trusted him." That year, Sebial became pregnant. At 17, while her friends were graduating to the 10th grade, she was giving birth to her son.
Sebial is not alone. One in every four 15- to 24-year-olds has engaged in premarital sex in the SOCCSKSARGEN region (encompassing South Cotabato, Cotabato City, Cotabato Province, Sultan Kudarat, Sarangani and General Santos City) where she lives, the Philippines 2013 Young Adult Fertility and Sexuality Study shows. Of these, 91 percent had unprotected sex during their first sexual experience. Regional data from 2015 showed that more than 10 percent of girls between the ages of 15 and 19 became pregnant.
The government of the Philippines recognizes the need to address teenage pregnancy. Adolescents' health, economic prospects and quality of life may be gravely impacted by pregnancy. Therefore, the Philippines Department of Health (DOH) has initiated several adolescent youth and reproductive health interventions that use a multidisciplinary approach and promote partnership among schools, communities and hospitals. One of these interventions is the hospital-based center for teens. Patterned after the Philippine General Hospital Teen Moms program, the centers for teens have been established with funding from the U.S. Agency for International Development's MindanaoHealth project in partnership with the DOH and led by Jhpiego.
Each center, typically a designated room in a hospital, refers adolescents for pregnancy-related services, such as antenatal care and delivery, within the hospitals. They also offer services by trained health care providers who discuss postpartum and newborn care, including family planning options with pregnant adolescents. Health care providers explain the importance of exclusive breastfeeding for the first 6 months and provide immunization services. The young mothers benefit from psychosocial counseling about life skills and options to continue schooling.
To date, the MindanaoHealth project has set up nine hospital-based centers for teens, including the one at Dr. Jorge P. Royeca Hospital, where Sebial gave birth. Over 4 years, the MindanaoHealth project has developed the capacity of 977 health care providers to help care for a total of 51,380 teens. In addition, the project has assisted 38 rural health units and their health care providers to enhance their capacities to deal effectively with young clients, perform risk assessments and provide counseling.
Jhpiego-trained nurse Margie Junio remembers how Sebial wouldn't utter a word when she arrived to deliver, accompanied by her mother. Junio counseled Sebial on how to care for herself and her newborn, and about the benefits of adopting a family planning method to delay future pregnancies. Junio also convinced the teen mother that she could regain control of her life and work toward a brighter future.
By the time she was discharged from the hospital, Sebial felt more upbeat. She said: "Everything that Mam Margie taught me about my reproductive health and my welfare as a young mother, I put in my heart and in my mind. I am more careful now that I am more aware."
She exclusively breastfed her son for the first 6 months, got him immunized per the national schedule and started using oral contraceptive pills to avoid another unintended pregnancy.
Sebial returned to school after 7 months in an open high school education system. She diligently attended small classes and one-on-one tutorials to keep up with mainstream classmates.
"I wanted to go back to school and rise above the situation I went through," said Sebial. "My dream is to eventually finish college and get a good job, so I can provide a good future for my son."
Jhpiego believes that when women are healthy, families and communities are strong. We won't rest until all women and their families—no matter where they live—can access the health care they need to pursue happy and productive lives.
Donate now!