A Community Response to COVID-19 Leads to Improved Health in Rwanda
We had so many cases [of COVID-19] in the beginning. After vaccination, I have seen the change.

Sister Colette, Head of Rubungo Health Centre
Enough to be scared
Daniel Sibomana, a 51-year-old father of five in a community just outside of Kigali, Rwanda, knew very little about COVID-19 when it was declared a pandemic. In fact, he didn't believe in it—until he began to see how ill the virus made some of his friends. He didn't know much, but he knew enough to be scared.
Living with high blood pressure, Daniel was at higher risk of severe COVID-19. Fortunately for him, people living with such health conditions during the pandemic were a priority for the U.S. Agency for International Development's Reaching Impact, Saturation, and Epidemic Control (RISE)'s Test-to-Treat program in Kigali. Together with the Government of Rwanda and Rinda Ubuzima, a local nongovernmental organization known for excellent communication and awareness-raising activities, health care providers are reaching people in the community like Daniel who are at higher risk—providing them with COVID-19 education, testing and treatment.
With the Test-to-Treat strategy, adults who test positive for COVID-19 and are at high risk of severe COVID-19 take antiviral medicine within five days of their first symptoms. Starting treatment early can lessen the severity of illness, keeping older adults and those with conditions such as diabetes, hypertension or HIV out of the hospital.
"The message was very clear, and clarified all the misconceptions I had heard about the virus before. I was among the first individuals to make a decision to be vaccinated when the program started here at Rubungo," said Daniel at a return visit for COVID-19 testing.
I remember upon arrival to the health center to monitor my blood pressure, the community educator provided us with education on COVID-19 protection measures. We were taught why it was important for people with a condition such as mine to get vaccinated, as we were considered to be at high risk.

Daniel Sibomana
---
RISE in Rwanda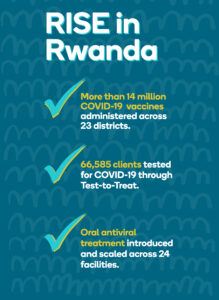 Across 23 of 30 districts in Rwanda, RISE played a major role in vaccine distribution and acceptance, delivering more than 14 million COVID-19 vaccine doses, including more than five million first doses—contributing to more than 50% of Rwanda's total vaccination, and surpassing the government's goal for the first round of a vaccination campaign. The Test-to-Treat program followed these efforts, first introducing oral antivirals as a key strategy to help save lives, then ensuring that tens of thousands of the people most at risk received COVID-19 testing, and enrolling two-thirds of those who tested positive into COVID-19 antiviral treatment to help keep hospitalizations low. 
Read more about RISE
---
Community partners forge connections
To effectively implement the Test-to-Treat program through RISE, Jhpiego Rwanda partnered with Rinda Ubuzima. This local organization brought strong expertise and local connections to the project, mobilizing and engaging communities to get vaccinated, boosted, tested and treated for COVID-19 in eight districts across the country.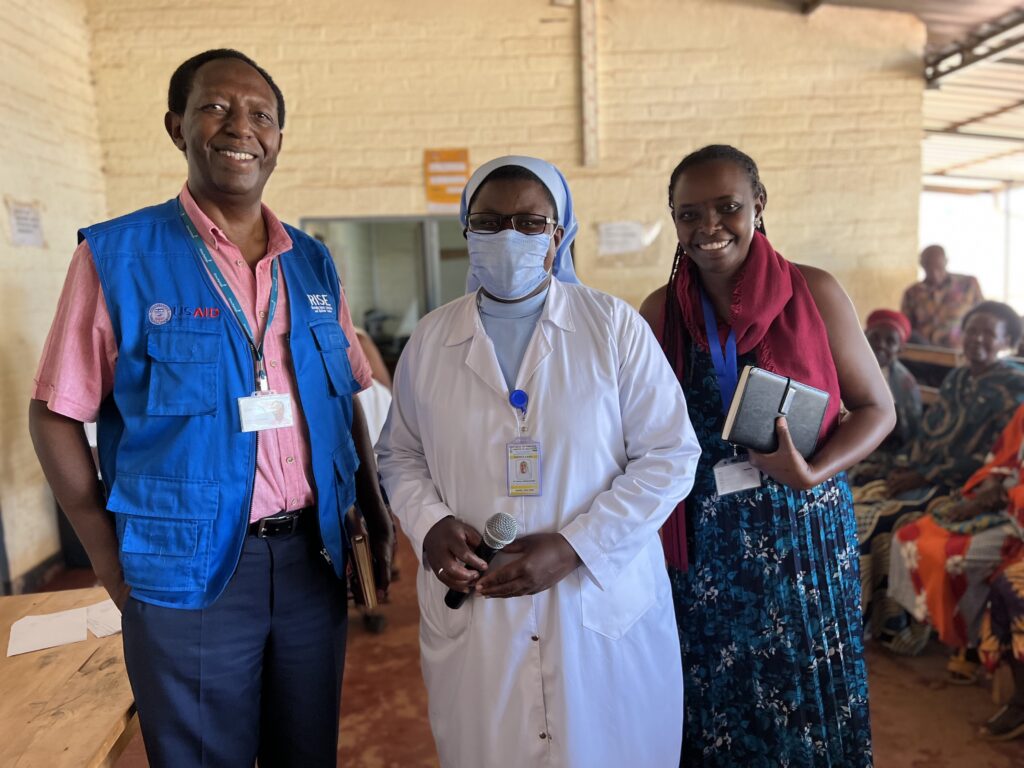 Aline Umutoni Uwizera, a community engagement manager at Rinda Ubuzima, meets daily with clients who are at high risk: people who are unvaccinated, living with noncommunicable diseases or living with HIV.
When these clients go to their local health centers for treatment, Aline and her colleagues seize the opportunity to share information about COVID-19: what it is, its symptoms, treatment and the importance of vaccinations.
"It is a huge milestone, and so fulfilling to witness how people from high-risk groups are getting educated and receive treatment they need. They're getting vaccinated against COVID-19 for free and willingly," Aline said.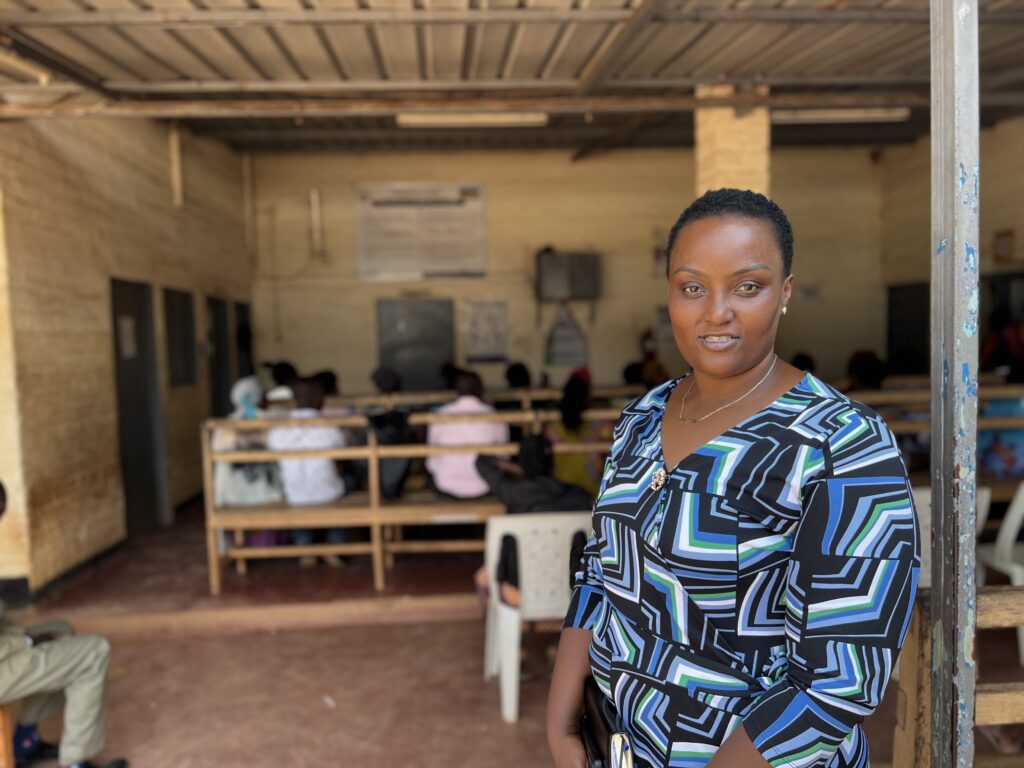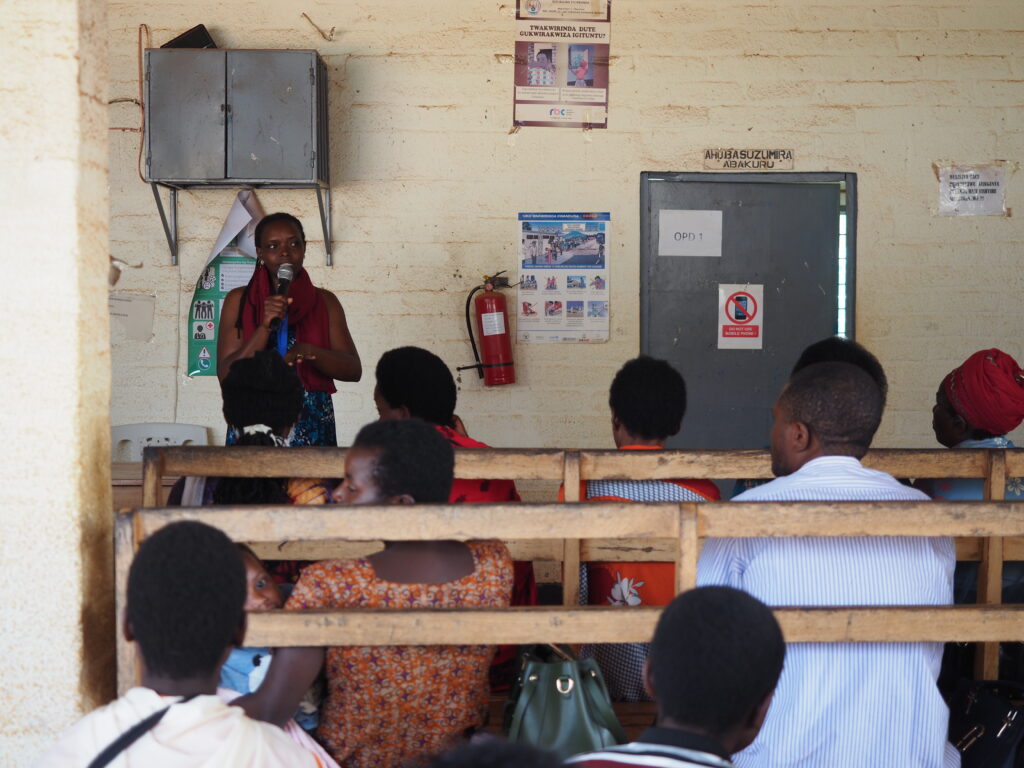 Rinda Ubuzima works closely with Jhpiego experts in Rwanda, along with health facilities and local government authorities. The partnership is critical. Aline and her colleagues work toward sustainable transformation in their communities, while Jhpiego transfers valuable skills and expertise gained from decades of implementing programs against infectious diseases worldwide.
Together with leaders of local health centers like Sister Colette, head nurse at Rubungo Health Centre, they're ensuring that Rwandan communities have every opportunity to thrive.
"I see how the community is interested to be tested and vaccinated, because they have seen the importance of living free from the constant presence of the disease," Sister Colette said.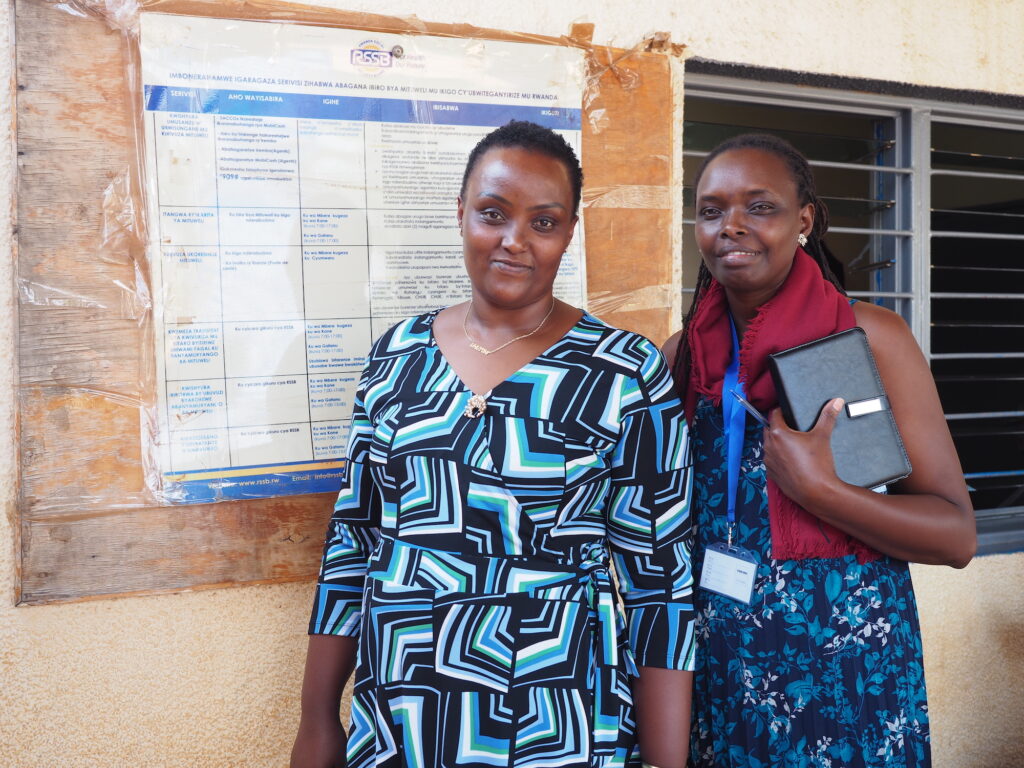 ---
A friendly booster
Alphonsine is married, with nine children, and has spent more than a decade living with high blood pressure. In 2021, she was vaccinated against COVID-19, and thought nothing more of it.
But in January 2023, as Alphonsine sat waiting for her monthly appointment at Rubungo Health Centre, she listened to health educators, led by Rinda Ubuzima leaders and health center staff. They explained the importance of being fully vaccinated, including boosters, for people in high-risk groups. She decided to get a booster dose that day.
I chose to share the knowledge and understanding with my family and my neighbors. There used to be rumors about vaccines, that they were intended to kill people. I talked to my children, who are also talking to their children about getting vaccinated. My whole family is now fully vaccinated.

Alphonsine
With leadership from Rwanda's Ministry of Health, the RISE partnership is thriving—supporting 15 health centers and nine hospitals across Kigali and beyond. Thanks to Rinda Ubuzima, alongside health centers such as Rubungo and dedicated providers, COVID-19 has lost its tenacious grip on communities and families in Rwanda.
This story was written in collaboration with Albertine SisuluKajyambere, Fabrice Witanday, Dominic Fortunatus, Chioma Oduenyi and Cole Bingham