Before I joined DREAMS, I wasn't doing anything. I was a dropout due to the lack of financial support from my parents. I live in Juba with my parents and my brother, but he just drinks alcohol and doesn't help us…. I just decided to stay at home, but when I turned 18, I got pregnant. "

Gloria Elijo
Gloria Pino Elijo, 23, graduated in February 2022 with a certificate in tailoring—a hard-earned skill that provides an income and a future full of possibility—thanks to the Determined, Resilient, Empowered, AIDS-free, Mentored and Safe (DREAMS) initiative, which is funded by the President's Emergency Plan for AIDS Relief and implemented through the U.S. Agency for International Development's Adolescents and Children HIV Incidence Reduction, Empowerment and Virus Elimination (ACHIEVE) project. DREAMS is led globally by Pact and implemented by Jhpiego in South Sudan, where Gloria lives.
After graduation, Gloria sat down with writer Susan Martinez for a frank conversation about Gloria's journey to good health and self-confidence and her own business. Susan reports on their conversation in Gloria's own words.
Gloria's own words.
I thought that maybe my husband would help me but he didn't. Whenever I asked for money, he would beat me. When I went to my parents, they insulted me and made me feel like I was something useless. I lived that life for some time, until my grandmother came from the village. When she saw me, she said she'd help me by taking the child to stay with her in the village. Otherwise, "the child would die of hunger," she said.
I tried working, but the money was not enough. I was so frustrated that I felt had no reason to live. I saw myself as useless. My parents weren't helping me, and they saw me as something that had no benefit. My husband washed his hands of me. I thought it was the end.
But, thank God, this program [DREAMS] changed me.
When DREAMS registered me, I started to attend the sessions and they helped me socially and economically.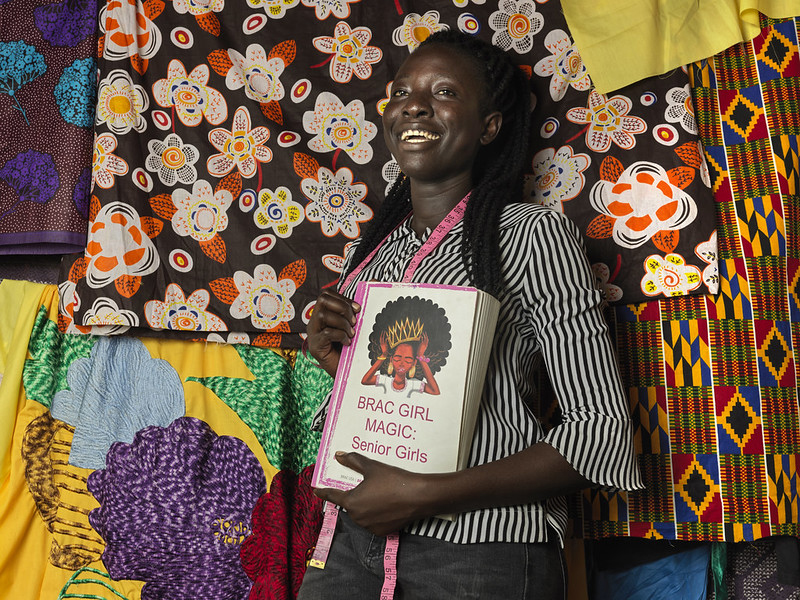 Before, I didn't know anything about gender-based violence. I didn't know my rights as a woman. Now, no man can mistreat me because I know my rights. Not only that, but before, I didn't know my HIV status. Now I know, and I know how [HIV] is transmitted. I knew nothing before. Now I know how to protect myself from HIV.
Yet, the lesson that completely changed me was the one about the pangolin and honey badger.
Pangolins are shy animals, whenever they are threatened they coil themselves. Since that moment I said, "I'll never be like a pangolin. Otherwise, I'll never be successful because I'll always be shy." The honey badger, instead, is the most fearless animal. I decided to be a honey badger, and now, at 23, I'm strong.
Now I don't fear anyone. I can speak with confidence with anyone. I can do my business without any shyness. I'm now empowered.
I work from Monday to Friday as a tailor in the market. I am also, finally, back in school. All because of the clothes that I'm making!

In a matter of years, I'll become a public health specialist. That is my dream.
There are many girls that are living the way I lived. But when empowered, they will become like us. Like me, a school dropout, back in school. Even my parents are happy. I have become the best child. The rejected stone has become the cornerstone.
My happiness is beyond everything, I don't even know how to express it.
DREAMS teaches girls and young women basic economic skills—how to earn and save money through different skills, how to run a business. Girls are mentored in reproductive health, gender equity and psychosocial skills—and have access to key health services like HIV testing and prevention services. Gloria is one of more than 2,000 girls in South Sudan who have graduated into lives with greater economic potential, health and safety—lives primed to achieve big dreams.
Susan Martinez is an independent communications consultant. Photos by Peter Caton/Jhpiego.