Islamabad, Pakistan — A series of miscarriages prompted Shaista Munir to visit her local health center and discuss ways to prevent getting pregnant again. A mother of three children, Munir met with a health provider who counseled her on a range of family planning options that would meet her needs and allow her to focus more on her young children. The health worker encouraged her to talk with her husband. Together, the couple decided on a long-acting family planning method.
Munir, 27, represents the pressing family planning needs in Pakistan, which has a population of 207 million people, making it the fifth most-populous country in the world. In recent years, the government and Ministry of Health faced a dual challenge: a declining rate of modern contraceptive use in its largest city, Islamabad, along with an increase in the number of women who want to avoid a pregnancy but are not using a modern method, from 12% in 2012 to 17% in 2017.
"Like every parent, I aspire to provide for my children…I prefer to have fewer children and want to bring them up well, ensuring that they have a quality education so that they can lead productive lives when they grow up."

Shaista Munir
Relying on its network of facility and community-based health workers, the government of Pakistan partnered with the United Nations Population Fund (UNFPA) and Jhpiego to develop and plan for integrated family planning services at primary health care facilities. This will enable more women and couples to access family planning where they already are receiving health services. This integrated approach aligns with the government's priority initiative to support universal health coverage.
A partnership for progress
For 25 years, Jhpiego has collaborated with the Pakistani government to address critical public health issues, most notably family planning, maternal and newborn health care, health workers' education and empowerment and, recently, global health security.
Before the UNFPA project, primary health centers provided a limited selection of family planning options, but they only offered short-acting commodities like condoms and pills, which were often out-of-stock. With UNFPA's funding, Jhpiego developed a multipronged approach to increase the uptake of family planning: ensure a regular supply of a broad range of contraceptive methods at health clinics; hold facility and community-based counseling sessions; train health workers on comprehensive use of short- and long-acting contraceptives; and refurbish health facilities for pregnancy care, delivery and postpartum family planning services.
Dr. Zaeem Zia, the district health officer who oversees health facilities in Islamabad, applauds this approach: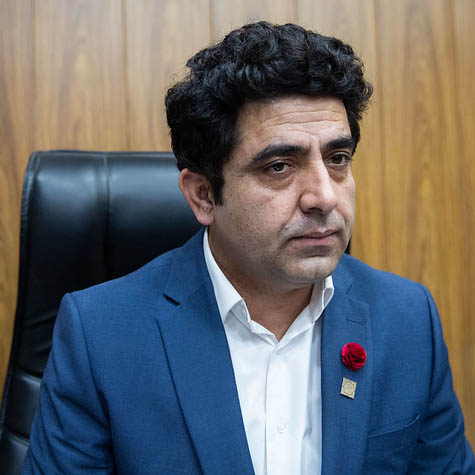 The integrated model has demonstrated substantial progress over the period of the last one year. We are working closely with UNFPA and Jhpiego to ensure provision of quality family planning services at the doorsteps of the community."

Dr. Zaeem Zia
Reaching women at home
Munir has benefitted from this approach. A lady health worker, one of Pakistan's community health liaisons, visited her at home and told her about the free family planning services available at the nearby Bhara Kahu health center. After consulting her husband and mother-in-law, as is customary in traditional segments of Pakistani society, Munir visited her health center and met with Lady Health Visitor Rakshanda Akram, a facility-based health care provider.
Lady health workers and lady health visitors are working to strengthen Pakistan's health system at the household and community levels and to connect local communities with facility-based services. Their mandates include provision of maternal and child health services and family planning services.
Akram, who has been providing care to women at the Bhara Kahu health center for 34 years, has witnessed the growth in families in her community. "Family planning is important because our population is rapidly increasing. When I joined this health facility there were few houses, but now there are thousands of people," she says. "I am happy that people now are coming to us for birth spacing."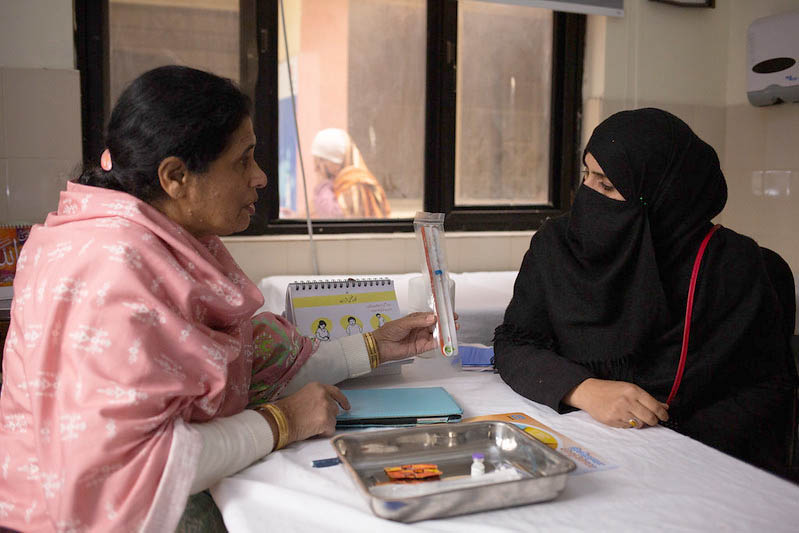 "When a client comes to us, we ask them about the purpose of their visit. We give them room so that they can talk to us privately," Akram adds. "When we talk about their children, husbands and household, they feel comfortable and understand that we are taking good care of them and are able to communicate openly."
As part of counseling clients, lady health workers and lady health visitors encourage women to talk with their husbands about spacing their children in a healthy manner for the benefit of the family. They help women understand the benefits of shared decision-making for them and their family members.
During their consultation, Akram briefed Munir on a variety of family planning methods and Munir expressed an interest in a long-acting, reversible option. With the help of the World Health Organization's medical eligibility criteria wheel for contraceptive use, Akram identified a suitable method of choice: the copper-T intrauterine device (IUD).
She explained that she would insert the copper-T IUD into Munir's uterus, which would give Munir protection for up to 12 years, but it could be removed at any time. Akram also discussed potential side effects such as minor pain and bleeding. She encouraged Munir to return to the health facility if she had any additional questions or concerns after the placement of the IUD.
Scaling up integrated services
Over the last year, the project has provided family planning services to over 5,000 clients, more than 3,000 of whom are new family planning users like Munir. "I am quite optimistic with the progress we have made," says Farida Shah, Jhpiego's former manager of the project. "Of the five targeted facilities in Islamabad, all have made substantial improvements in family planning service utilization."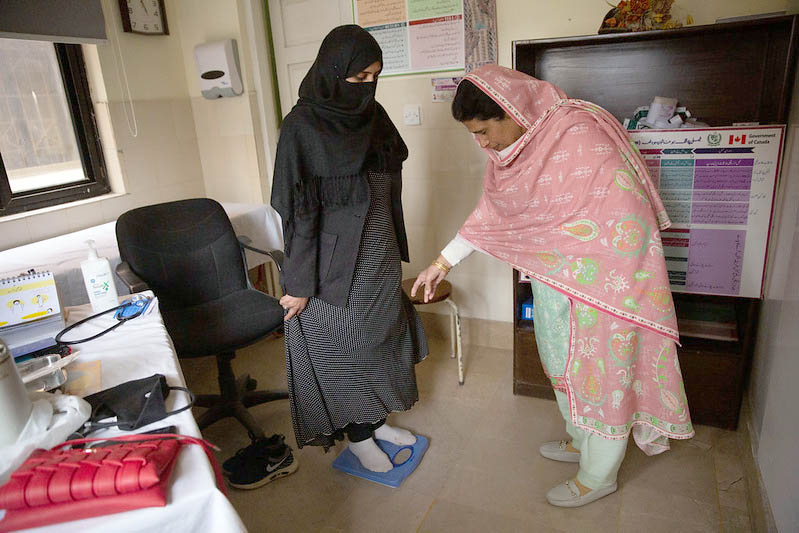 Before the UNFPA project, the five supported facilities saw an average of 8 to 54 family planning clients each month from January-October 2020. A year later, following integration of services, the facilities averaged 27 to 229 clients each month during January-October 2021—three times higher.
As a testament of success, the Pakistani government is now reviewing this integrated model for scale-up in the remaining health facilities of Islamabad.
At its core, modern family planning is about managing when and how many children a person will have over the course of their life. In doing so, family planning allows adolescent girls and women the chance at better health, greater opportunities for higher education and employment and the ability to explore their own potential. Based on her experience, Munir has some advice for other women.
I would like to tell them that if you want a better future for your family, then they should adopt one of the many available methods of family planning."

Shaista Munir
Ammar Zafarullah is a communications specialist in Jhpiego's Pakistan office. Leanne Gray, a senior communications specialist in Jhpiego's U.S. office, also contributed to this story.