CAPE TOWN, South Africa – Nurse Nozipho Magubane wipes down plastic chairs and sets them up in a bright corridor at Makhaza Mall. She is preparing to open the Jhpiego-supported pop-up COVID-19 vaccination site in Khayelitsha, a poor neighborhood that is one of the least-vaccinated areas in Cape Town. Though the setting looks different from a clinic or hospital, the health standards and vaccination work are as rigorous as in a more traditional health facility.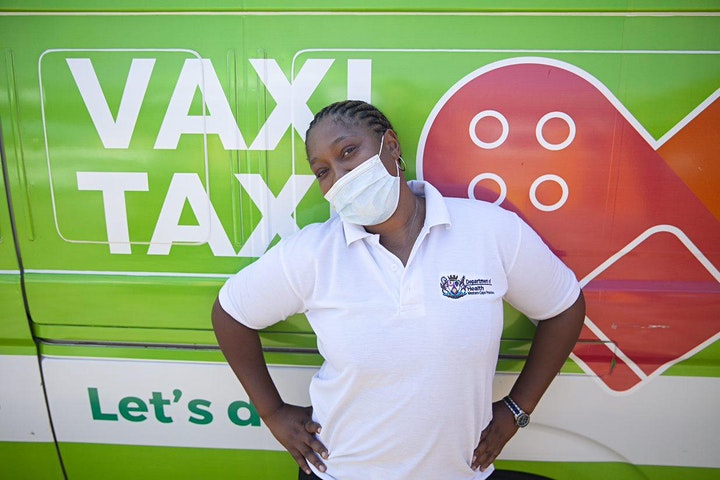 "We welcome clients and register them and then it's all about vaccinating them and then making sure they're OK afterward and telling them what to do after they get their jab," said Magubane, who has worked as a nurse for almost 13 years.
Since September 2021, Magubane and other Jhpiego-hired nurses have become accustomed to vaccinating people in locales that meet South Africans where they are — malls, bus stations and other venues. It's all part of the South African government's goal to make COVID vaccines more accessible to people living in vulnerable and outlying communities, like Khayelitsha and neighboring Mitchells Plain.
In Khayelitsha, just 37% of residents are registered to receive a vaccination, which means they've likely received at least one dose of Pfizer or Johnson & Johnson, two vaccines commonly available in South Africa. Nationwide, nearly 49% of the adult population has received at least one vaccine dose and 44% of the adult population is fully vaccinated.
With funding from the Solidarity Fund, Jhpiego has supported the South African National Department of Health to vaccinate South African residents in two provinces, the Western Cape – where Cape Town is located – and KwaZulu-Natal. As of May 9, Jhpiego has provided 40,378 vaccinations to residents in the Cape Town metro area. The project continues through June.
Building on VMMC work
As the pandemic reached South Africa, Jhpiego knew it could contribute to reducing the spread of COVID-19 through its experience in HIV prevention through voluntary medical male circumcision (VMMC). When the South African government asked for NGOs to assist with COVID vaccination campaigns, Jhpiego offered to help, drawing on its logistical, administrative and procurement experience with VMMC as well as its experience in generating interest in preventive care among adult men, who have been slower to take up the COVID-19 vaccine in South Africa, said Dr. Christopher Morgan, Jhpiego's senior technical advisor for immunization. This included everything from understanding what materials would be needed – needles, gauze, sharps bins, etc. – and where to procure them, as well as how to answer questions that clients might ask, like, "Why can't I stand for the vaccination? Why do I have to sit?"
In addition, because of its VMMC work, Jhpiego was able to draw on its strong relationship with the Department of Health and the communities it proposed working in for the vaccination program.
"We were already delivering a service, VMMC, and the health department knew they could trust us with vaccination," said Dr. Cynthia Thandi Ncube, Jhpiego medical officer who helped coordinate the vaccination program with colleague Siyabulela Kwezi Shumi. "It was much easier to set up a vaccination site because of the experience we had from VMMC. We already knew what was needed and could be done."
Jhpiego hired four nurses to run pop-up sites where they would provide COVID vaccinations and prepared for the work through the government's online training course. Until recently, the on-the-ground vaccination teams also included community interns, who were funded by the South African government for six months. The interns focused on demand creation, registration of vaccination clients and sanitization of the work and waiting areas. Five teams of vaccinators covered a total of 56 vaccine sites during the month of April.
Ncube said the start of Jhpiego's vaccination program required commitment and dedication. The number of people getting vaccinated was low and the vaccination team discussed ways to stay focused and support each other.
---
"I was listening to them and talking to them about how we can make this work better.

Dr. Cynthia Thandi Ncube
---
Eventually, vaccination numbers picked up; as more and more people saw their friends, family members and neighbors getting the vaccination and staying healthy, "then they felt more comfortable getting vaccinated," Ncube said.
Educating clients about COVID vaccines
Still, as in other countries, South African residents were hesitant about receiving vaccines for a number of reasons. A fear of needles. Concerns about vaccine ingredients. Plus a feeling of ambivalence about the vaccine since it doesn't 100% prevent anyone from falling sick with COVID.
"The most challenging thing is . . . convincing people to get the vaccine," said Magubane, one of the nurses. "Because you talk to a person, explain what's going on about the vaccine but still they will say, 'No, we will come back tomorrow.' It's a bit of a challenge."
But Magubane wasn't deterred. She says one of her approaches to overcoming vaccine hesitancy is to ask people to think about the health of the people around them, especially older or younger family members or people they come into contact with. She also shares her own story of getting vaccinated in May 2021 – back when only health care workers could access the vaccine in South Africa – and then falling sick with COVID in September 2021.
"I was diagnosed with COVID but for me it wasn't severe," she said. "When COVID started, I was working in a hospital. I saw in the hospital how severe it [COVID] could be. For me, it was like a normal flu. The vaccine for us health care workers, it really was a relief."
Magubane's most rewarding moments in this job have been when clients come back and say that after they received the vaccine, they caught COVID but they weren't very sick because the vaccination helped them. She's lost count of how many times people have shared this kind of experience with her.
"It's like, wow, we did something good for another person," she said. "Then that person can spread the word that the vaccine is actually helpful."
Laura Elizabeth Pohl is a photographer-writer for Jhpiego based in South Africa. Wandile Nonhle Sibisi, Marketing Manager in Jhpiego's South Africa office, also contributed to this article.
---
Jhpiego believes that when women are healthy, families and communities are strong. We won't rest until all women and their families—no matter where they live—can access the health care they need to pursue happy and productive lives.
Donate now!