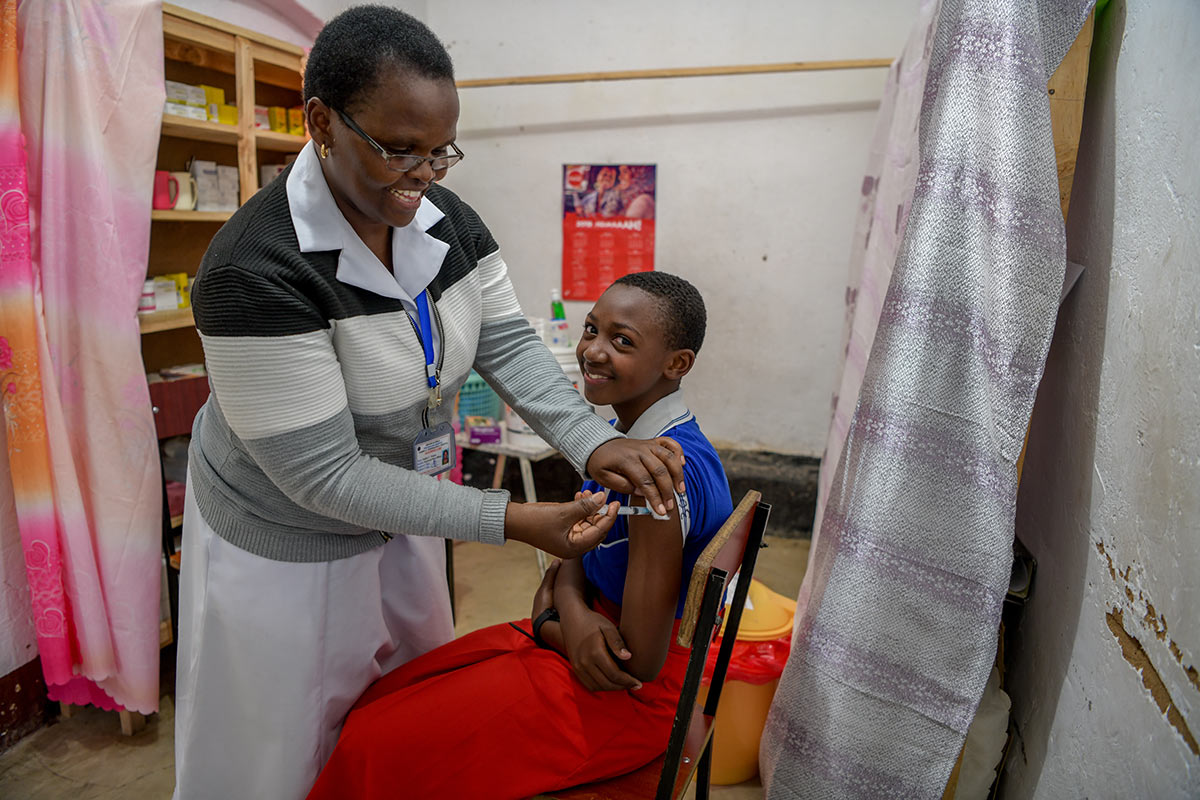 Iringa Region, Tanzania—In the two minutes it takes for Naomi Kakingo to sit and roll up the sleeve of her school uniform and for Nurse Anipher Nyunza to vaccinate the 14-year-old against the human papillomavirus (HPV), a woman somewhere in the world—most likely in a community very similar to Naomi's—will die of cervical cancer.
HPV is a ubiquitous virus—the common cold of sexually transmitted infections. HPV causes cervical cancer, a disease that last year killed 311,365 women globally, the majority in Africa and Asia.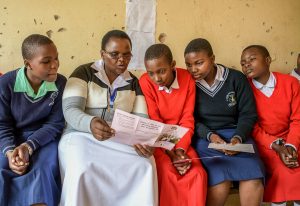 Like far too many in Tanzania, Nurse Anipher has been touched by cervical cancer. Having lost three colleagues to this preventable disease, this nurse at the Tosamaganga Council District Hospital in Iringa Region is committed to helping her country answer the Global Call to Action for Cervical Cancer Elimination.
Launched in May 2018 at the World Health Assembly, the effort calls on countries to ensure that all girls and women—no matter where they live—have access to the vaccine, screening and treatment.
A month before the launch, Tanzania rolled out its national HPV vaccine initiative. Jhpiego, through funding from Gavi, the Vaccine Alliance, is now in the second year of supporting the Government of Tanzania and the Immunization and Vaccine Development unit of the Ministry of Health, Community Development, Gender, Elderly and Children to ultimately eliminate cervical cancer in Tanzania through increased HPV vaccination. As part of achieving an equitable and sustained HPV vaccination coverage of 70 percent of eligible girls by 2030, the initiative aimed to vaccinate 13,021 girls in Iringa Region in the first year of the rollout.
Because of efforts largely on the part of nurses like Nurse Anipher, who provide this primary health care service in schools and nearby facilities, 14,034 girls were vaccinated.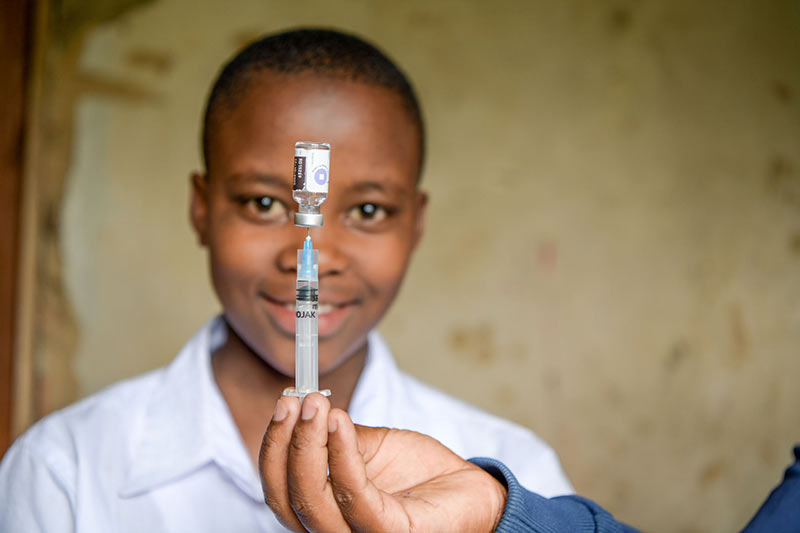 On this day, Nurse Anipher is at Saint Dominick Secondary School. Flanked by young teens, she talks candidly about HPV. Almost every sexually active person will get HPV at some time in their life, the nurse tells them. Unless they are protected by vaccination.
Most times, a healthy immune system will clear HPV without a girl even knowing she's infected. But that doesn't always happen. Maybe because the immune system is compromised—by HIV, for instance. When HPV doesn't clear, it can become a precancer. And if that's not detected and treated early, the virus ultimately can lead to a cancer that's fatal.
"This is a silent killer disease," Nurse Anipher warns. She describes how her coworker had never been seriously sick before being admitted to the hospital with late-stage symptoms, at which point the cancer had progressed beyond treatment.
Nurse Anipher also disabuses the teens of the notion that cervical cancer need not concern them until middle age.
"The worst thing is, you can now find young ladies already infected with it," she says, referring to a 22-year-old with early symptoms.
In fact, the increasing numbers of young women living with HIV are at greater risk of getting cervical cancer. Without changes in prevention and control, cervical cancer deaths are expected to increase to 430,000 each year by 2030, virtually all in developing countries.
Which is why Nurse Anipher expresses a growing sense of urgency to immunize girls prior to sexual initiation—before they're exposed to HPV.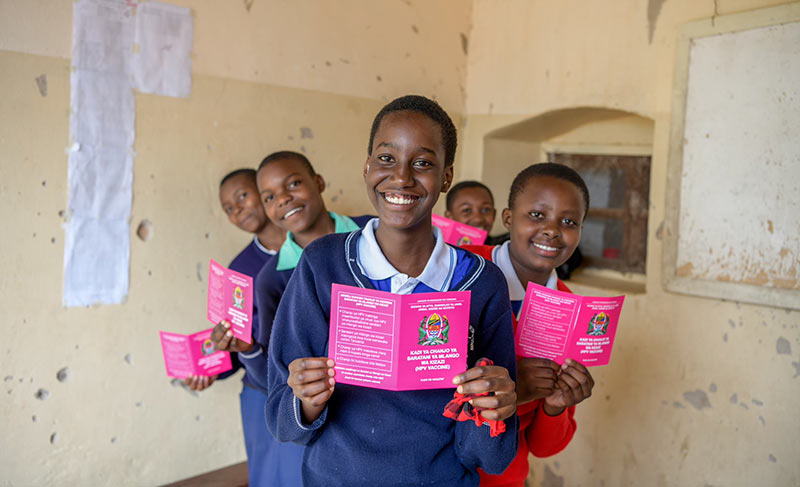 In addition to talking to the girls about the nature of the virus and the necessity of the two-dose vaccine, she has organized meetings with village leaders and parents, who don't want to think about sexually transmitted infections in relation to their young daughters. She also works with communities to identify and vaccinate out-of-school girls—particularly vulnerable adolescents who aren't attending classes because they are already working as housemaids, for instance.
Nurses have been and will continue to be on the frontlines of delivering primary health care, which includes administering vaccines for infants and children. As cervical cancer prevention technologies and vaccine science evolve, so does the need for nurse expertise in these areas. Nurses serve as a core source of vaccine information and comprise the majority of HPV vaccine providers across Tanzania. To assure these nurses' confidence and competence in their new and expanding roles, Jhpiego facilitated daylong district-level trainings in Iringa Region.
"So far I have vaccinated not less than 200 girls in this local area," Nurse Anipher says, explaining that she has visited seven schools in the community.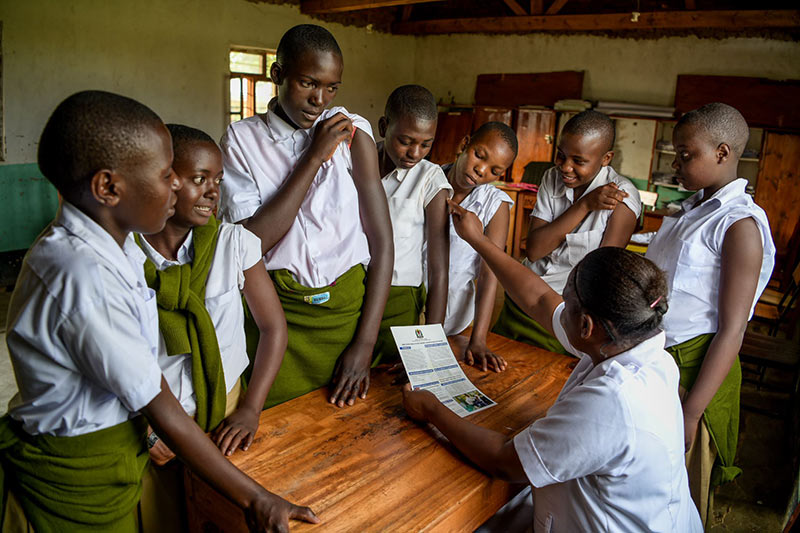 As they work in schools and facilities, nurses like her are ushering in a new era ofwellness and disease prevention by providing client-centered, community-owned care.
Primary health care—as provided by nurses—holds the promise of accelerating positive health outcomes for women and families, and lifting countries up toward healthy futures.Maryalice Yakutchik is Jhpiego's communications manager.Frank Kimaro is a communication officer for Jhpiego in Tanzania.
Jhpiego believes that when women are healthy, families and communities are strong. We won't rest until all women and their families—no matter where they live—can access the health care they need to pursue happy and productive lives.
Donate now!