During a visit by community health volunteer Lulu Gama to a warren of houses in the overcrowded Dar es Salaam suburb of Tandale, a neighbor called out to her, "You should also go visit that house across the road."
In a dimly lit, one-room shack, Lulu found Amina Mohamedi, her out-of-work husband and their 6-year-old daughter, Elizabeth. The family was living on less than a dollar a day, barely enough to buy food for their daily meal.
"I am ill," Amina told Lulu. "My husband is also sick and looks weaker than me. He keeps lamenting that I do not take care good of him these days. But look at me, I am very sick."
Fueling the Epidemic
In hotspot areas such as Tandale, key and vulnerable populations are most at risk of HIV infection. The World Health Organization and others define key and vulnerable populations as adolescents and young women, sex workers, people who inject drugs, men who have sex with men, transgender persons and prisoners. Because these populations are often discriminated against and their behaviors stigmatized, they are least likely to have access to HIV prevention, testing and treatment services. Although the general HIV prevalence in Tanzania is 5.1%, the latest estimates indicate an HIV prevalence of 36% among people who use drugs, 26% among female sex workers and 25% among men having sex with men.
High rates of HIV infection and overlapping sexual networks between key populations and the general population are fueling the spread of HIV and eroding the gains made in the fight against the epidemic. Community health volunteers like Lulu are working to change this disparity and restore the health and well-being of thousands of men, women and children who test positive for HIV.
A New Project, a New Approach
With support from the U.S. Agency for International Development, the Jhpiego-led Sauti Project is working with the government of Tanzania to roll out comprehensive, integrated packages of client and community-centered biomedical, behavioral and structural HIV prevention, family planning and escorted referrals to health care treatment for key and vulnerable populations in Dar es Salaam and 13 other regions. In partnership with EngenderHealth, Pact and the National Institute for Medical Research Mwanza, volunteers like Lulu pair with HIV counselors to form powerful community worker/counselor teams that walk door to door in the suburbs, providing HIV prevention services to clients in their homes.
"In the morning, I usually start at Tandale Health Center, where I will review the previous day's HIV testing and treatment records for clients who tested positive and/or started treatment for partner notification," explained Happy Temu, an HIV counselor with Sauti and Lulu's partner. Using a partner notification or contact-tracing approach, the teams ask people living with HIV about their sexual partners and children. With the consent of the HIV-positive client, a provider then contacts these individuals to offer voluntary HIV testing.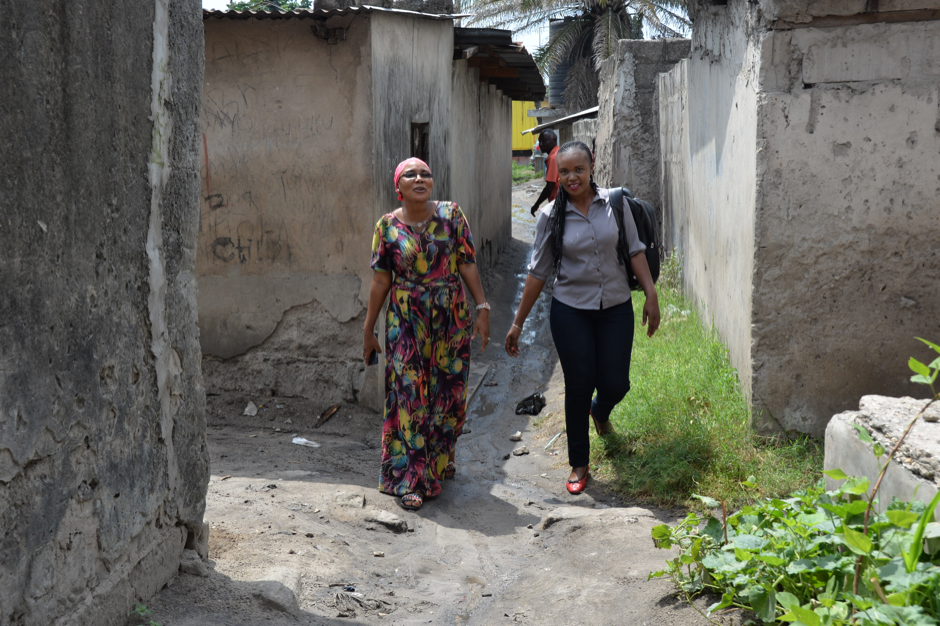 Lulu, the home-based care provider, starts her day with home visits. When a potential client agrees to test for HIV, she calls Happy. It was during these "community health home rounds" that she discovered Amina. "She was in terrible condition. She was weak and had a rash all over her body. Her skin was wrinkled. Amina is 36-years-old but she looked 50," recalled Lulu.
Using her experience and the skills she acquired through Sauti, Lulu spoke to Amina about her risks as a transactional sex worker and the need to check her health and that of her daughter. With further counseling from Happy, Amina agreed to be tested for HIV. The result was positive, as it was for her daughter. Because of Happy's good counseling, Amina accepted the results and agreed to start antiretroviral medication.
Client Escorts and Linkage to HIV Care
Throughout the 14 regions where Sauti operates, counselor teams often arrange transport and escorts to take clients to HIV care and treatment centers so they can start antiretroviral treatment. Sauti's HIV prevention efforts do not end with the client. As part of the project's post-test counseling and partner notification approach, efforts extend to spouses and casual sexual partners.
After receiving her results, Amina encouraged her husband Michael to be tested. He, too, was HIV positive and joined his wife and daughter on treatment.
New Targets and Motivation Through WhatsApp
When Sauti started two years ago, project officers and counselors set up tents in hotspot areas and invited clients and passersby to test for HIV. They tested hundreds of people, but determined that a more refined approach would ensure they reached more HIV-positive people who needed to start on HIV medication—"the ultimate goal and measure of success for us," according to Emma Olotu, Sauti Project Clinical Services Program Officer and Happy's supervisor.
Introducing partner notification has improved coverage, but it also adds new testing goals. Each counselor/care provider team aims to identify and diagnose at least one HIV-positive client per day and make sure that this client enrolls in treatment the same day or within a few days of learning their HIV status. HIV counselors submit daily reports through WhatsApp instant messaging groups. Providers and project technical leaders also share experiences and motivate each other through these groups.
At the end of each week, individual counselor achievements are color-coded to indicate performance, which is helpful in motivating, mentoring and supporting teams at weekly and monthly progress review meetings. Green indicates the provider diagnosed and enrolled in care six HIV-positive clients; yellow indicates four to five clients; and red signals three or fewer clients.
As with all new behaviors, change doesn't happen overnight. Says Olympia Mshanga, one of the Sauti HIV counselors who initially struggled with the new approach, "I wasn't able to diagnose an HIV-positive client the first week we started. Everything was new to me. It was very frustrating. But I was very encouraged with the response and feedback I received. Happy Temu sent me private messages when she saw my performance in the group. She volunteered to mentor me. Things became clear after that." To make sure providers have the skills and are up to speed with the new approach, the Sauti technical team provides continuous training and mentorship with tailored guidance to providers who lag behind. This helps HIV counselors like Olympia to improve their confidence and performance and quickly move from red to green.
A Project Revamped, Saving Lives and Transforming Futures
Transformation has occurred throughout the project. In 2016, although Sauti provided HIV testing services to 653,482 key and vulnerable population clients, it identified a mere 17,157 HIV-positive clients and linked only 29% (4,922) of these to HIV care and treatment.
With the new "diagnose one, link one" approach the project adopted earlier this year, Sauti has not only met its goal of reaching 505,274 clients this year, it has also doubled the detection of HIV-positive clients to 35,718 and successfully linked 77% (27,556) of them to care, such as Amina and her family.
"Now that my health has improved, I am looking for a small loan to start a small business of selling cassava chips," Amina said. Michael is also transformed—still shaky, but recovering. He makes sure their daughter, Elizabeth, does not miss her medication.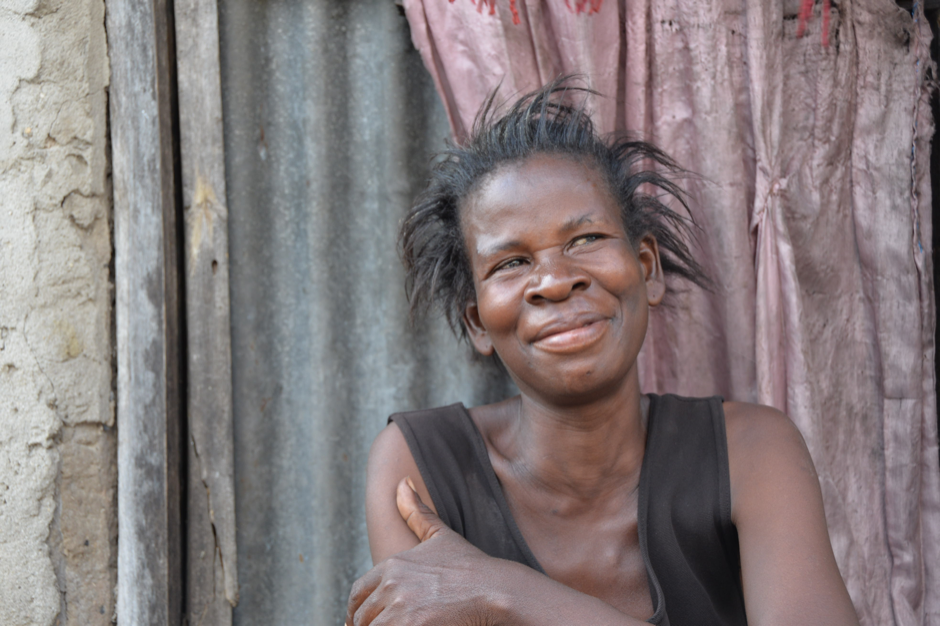 As Lulu and Happy were leaving Amina's house, Lulu's phone rang. It was a woman she and Happy had diagnosed the previous day and linked to HIV care. The woman was calling to confirm that she had managed to convince her partner to take the HIV test.
"You see, this is how this approach is so efficient. Clients are informing their partners and are calling us to go provide them counseling, testing and HIV prevention services," explained Happy. Without wasting time, she and Lulu left to visit the new client.
Dr. Charles Wanga is Jhpiego's Senior Communications Specialist for Africa Region.
Jhpiego believes that when women are healthy, families and communities are strong. We won't rest until all women and their families—no matter where they live—can access the health care they need to pursue happy and productive lives.
Donate now!