Fathers are going back to school in the Western Highlands of Guatemala to learn to be better parents and partners.
Among the students is Mario Méndez Pérez, 46. He and his wife María Carmelo, 42, live in Bulej village, 25 kilometers from the municipal capital of San Mateo Ixtatán, in Huehuetenango department. The program, which ran for 10 sessions from March 2022 until November, aimed to promote greater involvement of fathers in their children's care and positive upbringing, increase men's participation in sexual reproductive health and prevent gender-based violence. Wives meet separately and then with their husbands so they can work together to transform harmful social norms that limit women's and children's access to health and nutrition services.
The schools for parents are run by PSN—Health and Nutrition Project, which is funded by the U.S. Agency for International Development and led by Jhpiego in partnership with the Institute of Nutrition of Central America and Panama and the Association of Community Health Services. PSN works in the Western Highlands of Guatemala to improve the health and nutrition of women and children by transforming gender norms and removing gender barriers to increase their access to nutrition and health services, including family planning.
The sessions are based on Programa P—for padre, the Spanish word for father—a manual for "engaging men in fatherhood, care giving, and maternal and child health."
Since attending the school for parents, Mario talks of the changes he's made at home, such as sharing household chores with María, taking care of their five children and playing and spending more time as a family. "My parents did not have time to play or show love to their children," he said. "Work and bringing income to the home was the most important thing for them." Now, he recognizes how important it is to take care of his family and share as much time with them as possible.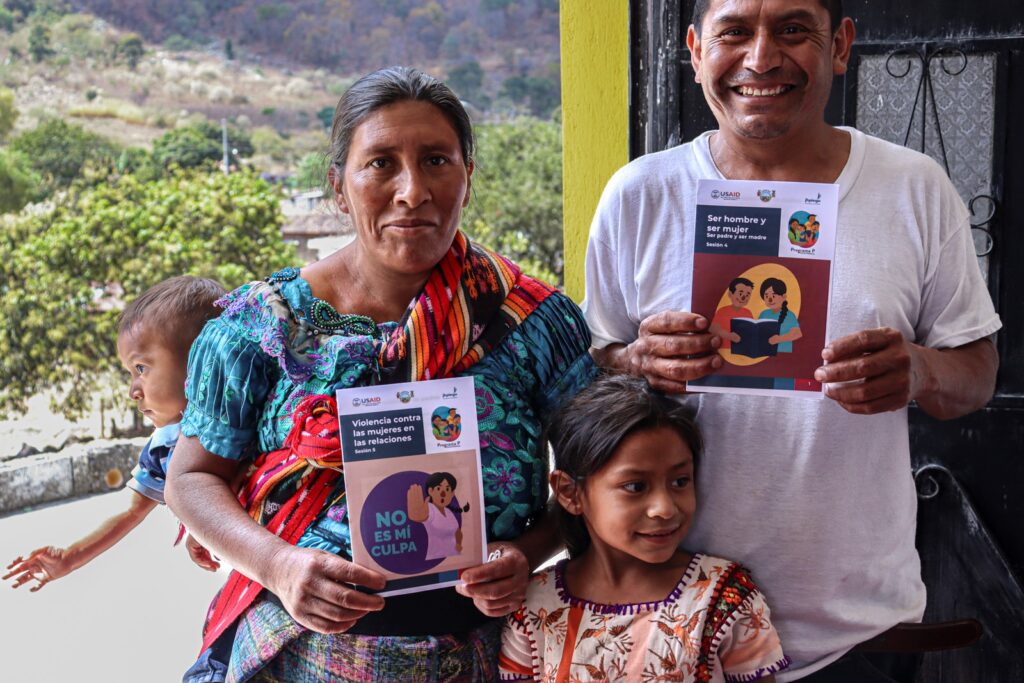 Mario also started to accompany María to their community health post for their children's vaccinations. "I thought it was only my wife's task," he said. "But now, I no longer think that, and I am in the process of continuing to accompany and be a better husband." María also values what she learned at the school. "I am grateful for all the information we received," she said, "because this knowledge will last a lifetime. Before, my routine with my husband was very different because he would go to work and then return home to rest. But now he supports me in taking care of our children and helps me with household activities. These changes were thanks to the training we received in each session at the little school for parents…."
We must always be attentive to participate; each learning is for the good of our sons and daughters and us as a couple."

María Carmelo, who joins her husband at Programa P parenting classes
Now a community leader, Mario and other fathers are planning talks with the youth of the church to share their new knowledge on gender issues.
While the PSN's use of Programa P began in Huehuetenango, PSN is scaling up its approach to transform gender norms in communities in neighboring Quiché department. Fifty-seven communities are now engaged in Programa P in these two departments.
---
Programa P was developed by organizations in Brazil, Chile and Nicaragua. Jhpiego developed toolkits to go with the Programa P manual that include job aids for facilitators and materials for parents. PSN designed the material for low-literacy participants, so they can engage with the contents, and adapts the toolkits to the local cultural and educational context.
---
In the village of Chacaguex, Sacapulas in Quiché, community leader Gerardo Mejía Sarat is working with PSN to improve and validate Programa P toolkit for his community. In January 2023, he will start training to be a gender champion and to promote Programa P among men in Chacaguex.
Gerardo and his wife, María Quej Acevedo, married when they were 21 and 16, respectively, and now have six daughters and two sons. Growing up, Gerardo knew that, for indigenous and rural families like his, it was important to marry at an early age. He also heard sayings such as "men are the only ones who should have money in their pockets," and "women should stay at home to take care of the children." When he went to work in the capital city, Gerardo wanted María to come with him, but his parents disagreed, so he went alone.
Likewise, when he and María wanted to plan their family, his parents told them this was "bad" and that they should have children according to "God's will." However, during María's last delivery, Gerardo feared he might lose María when she was taken to the emergency room. Since then, Gerardo has been a community leader and talks with other men about their responsibility to care for their wives' health and support their voices and role in the community. His experiences led him to work with PSN and Programa P.
Mario and Gerardo are proof that the journey to gender equality relies on a commitment from men to work with their spouses and become role models for their community.
Mirian Calel is a gender and communication specialist for social change and behaviour and inclusion of indigenous people; Fernando Arévalo is a communications and knowledge management specialist; Haydée Lemus is a gender and social and behavior change communication specialist; they all work in the Jhpiego Guatemala office. Rafael Valdizón is with the Association of Community Health Services (ASECSA) in Guatemala.
Editor Elizabeth Thompson also contributed to this article.
---
---
Jhpiego believes that when women are healthy, families and communities are strong. We won't rest until all women and their families—no matter where they live—can access the health care they need to pursue happy and productive lives.
Donate now!