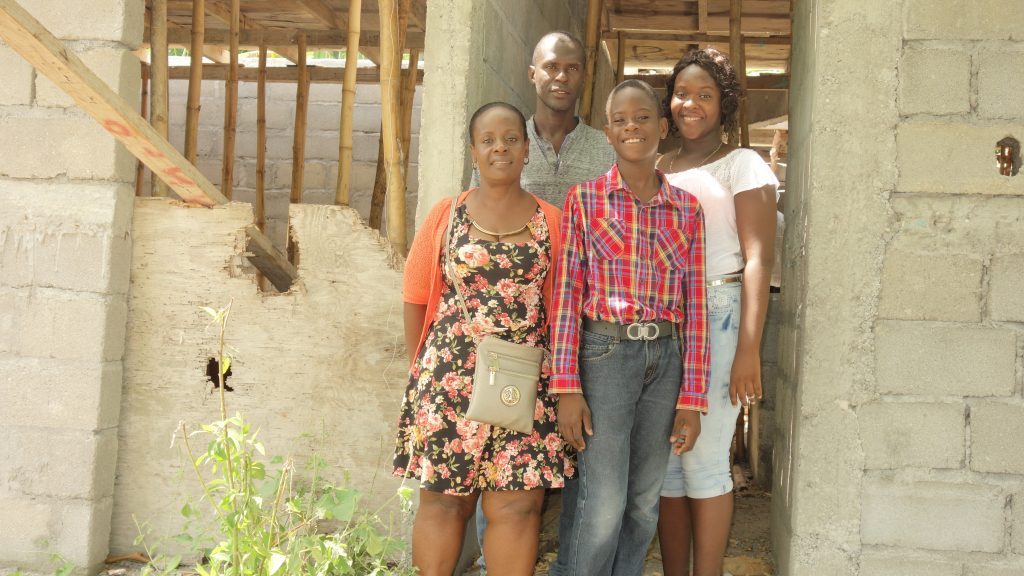 Grand'Anse, Haiti — Marie Carlyne Bernard's world was upended a year ago when Hurricane Matthew hit. She knew it would be bad, but didn't know just how bad. The Grand'Anse area, where Bernard lives, bore the brunt of the hurricane. For nearly 14 hours, Bernard, her husband and their two children hunkered down in their home. The tin roof of their house was ripped off by the 145-mile-per-hour winds, leaving her family vulnerable to the elements and the home uninhabitable.
The Category 4 storm, which hit October 4, 2016, ravaged the southern and northwest regions of the country. Throughout Bernard's region, the hurricane destroyed or severely damaged more than 86,000 houses and displaced more than 99,000 families. In some areas, the hurricane decimated every building not made of concrete, including 90 percent of the houses and 80 percent of all structures. Grand'Anse—known as Haiti's bread basket and as an area of strong land management and a self-sufficient way of life—suddenly found itself in an emergency situation and in dire need of assistance.
Following the emergency phase, and during the slow recovery, Jhpiego's Haiti team remained engaged and attuned to the ongoing needs of Haitians. As the lead of the U.S. Agency for International Development's Maternal and Child Survival Program (MCSP), Jhpiego distributed supplies to keep 24 MCSP-supported health facilities functional in the affected regions and strengthened the ability and resolve of health facility staff to continue services.
Jhpiego gave two financial cash transfers, totaling $500, to 365 people so they could provide for their own families, rebuild their homes and return to work. These cash transfers allowed individuals to decide what was most needed for their families and also helped the local economy to recover.
Bernard, a Departmental Program Officer for Grand'Anse as part of the MCSP project, was one of the 365 recipients. Her home had been without a roof since Matthew's passage, and the family had since been living with her godmother. Bernard had been anxious about how she would find the means to repair her home. The financial support from Jhpiego helped shelter her family. With this money, she was able to replace the sheet roof with concrete and restore their home.
When Jhpiego decided in June 2017 to distribute another round of cash transfers, Bernard was given the opportunity to help others in her community. Jhpiego asked the departments of Nippes, South and Grand'Anse to each identify 100 of the most vulnerable members of their communities, including pregnant and breastfeeding women and people living with HIV, who could benefit from this assistance of $100 each.
"When I learned this wonderful news, it was like a breath of fresh air. I felt so relieved and honored to be able to help others," Bernard said. Zulma Jeune, a 35-year-old single mother, immediately came to mind as someone Bernard knew could benefit from the assistance. She contacted Jeune to get her on the list of beneficiaries for the $100 cash transfers.
Jeune's home was severely damaged in the storm. Pregnant with her third child, she found it difficult to work afterward because of the challenges and risks of walking among debris in the disaster-stricken areas.
"Matthew brought my life to a standstill," Jeune said. "I didn't have anyone to help me. These funds mean the world to me. I was able to pay for my children's school fees, which were in arrears and preventing them from attending, and I was able to buy charcoal for my home."
Bernard was grateful she could help Jeune and other fellow Haitians. "I felt useful … and realized [helping one another] is a culture, a way of living."
Jeune echoed these sentiments, saying: "This assistance gave me hope when I thought all was lost."
Danielle Sofia Randall-L'Estrange serves as the Knowledge Management and Communications Manager for MCSP in Haiti, and Alisha Horowitz is an Associate Editor.
Gerbine Felix, Communications Officer in Jhpiego's Haiti office, contributed to this article.
Jhpiego believes that when women are healthy, families and communities are strong. We won't rest until all women and their families—no matter where they live—can access the health care they need to pursue happy and productive lives.
Donate now!