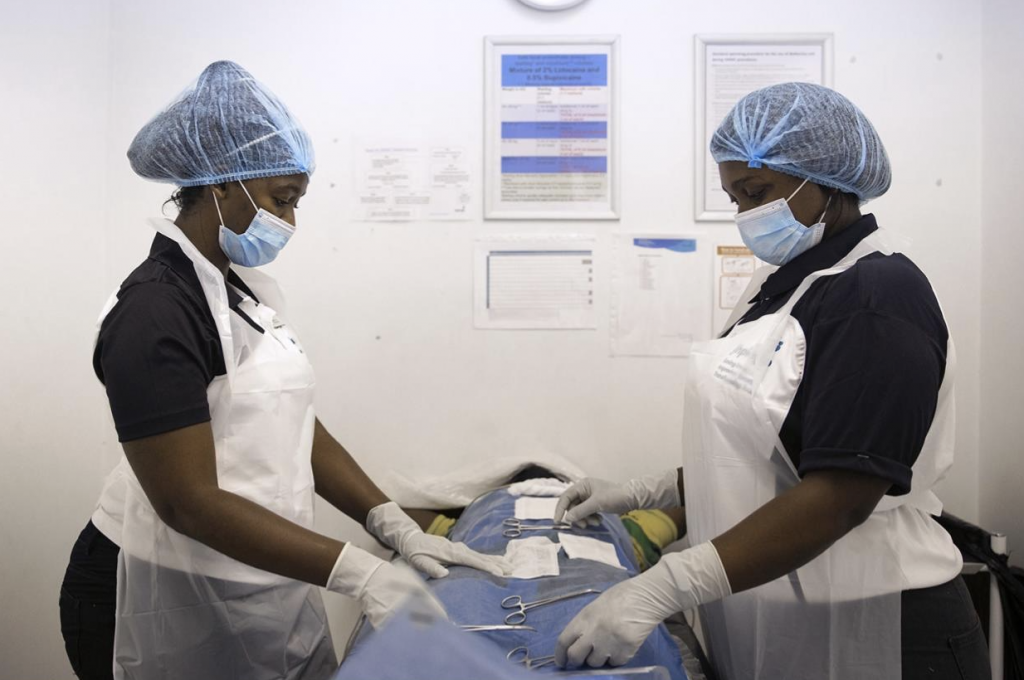 Cape Town, South Africa – Nurse Nomajama Nomnganga dons the gloves and apron she'll wear during the first circumcision surgery of the day. On the other side of the surgical bed, Nokuzola Dyonase, also a professional nurse trained to do minor surgery, arranges sterile forceps, needles and gauze.
For this pair of nurses at Jhpiego's ManUp Clinic in Cape Town, South Africa, the mission is all about helping men to lead healthier lives, and making sure their country progresses toward global goals.
Voluntary medical male circumcision (VMMC) is an evidence-based biomedical HIV-prevention intervention shown to reduce female-to-male transmission by approximately 60% and thus disrupt the HIV transmission cycle.
South Africa has long been a leader in VMMC science and implementation, starting with the groundbreaking VMMC randomized controlled trial conducted from 2002 to 2005 in Orange Farm and the largest initial scale-up targets. The country's National Department of Health is one of a dozen to partner with Jhpiego over the past decade to scale up VMMC. To that end, Jhpiego has supported more than 5 million men to get VMMC in East and Southern Africa, as part of its efforts to deliver quality health services to clients in their communities.
Despite significant achievements, VMMC scale-up lags behind the target of 90 percent VMMC coverage among eligible adolescents and adult men by 2020 set by the Joint United Nations Program on HIV and AIDS (UNAIDS). Demand has plateaued because of lingering cultural, personal and logistical barriers.
Similar challenges persist for other key HIV interventions: 86 percent of people living with HIV know their status, but testing coverage is low among youth ages 15 to 24, particularly young men, 42 percent of whom have never been tested compared with 31.9 percent of women in the same age group. Trailing women in uptake of antiretroviral therapy and viral suppression, men here die of AIDS at nearly double the rate.
Reaching men ages 15 to 34 not only saves lives, but also is key to achieving epidemic control, according to the 2017 U.S. President's Emergency Plan for AIDS Relief (PEPFAR) South Africa Country Operational Plan. As the nation's VMMC program matures, it is vital to keep demand creation and service availability nimble to increase acceptability and accessibility among the target population, and to use this platform to advance UNAIDS 90-90-90 goals among South African men: 90 percent living with HIV will know their HIV status; 90 percent diagnosed with HIV infection will receive sustained antiretroviral therapy; and 90 percent receiving antiretroviral therapy will have viral suppression.
In April 2018, Jhpiego began implementing a U.S. Centers for Disease Control and Prevention (CDC)-funded project to scale up high-quality, cost-efficient, integrated VMMC services to men ages 15 to 34 in high-burden PEPFAR districts in South Africa, thus bolstering the national comprehensive HIV prevention, care and treatment strategy. Now in year four of implementation, Jhpiego has supported 237,459 men to be circumcised since project inception, and continues to offer services in five districts in KwaZulu-Natal province (eThekwini, Ugu, uThukela, King Cetshwayo, Zululand), as well as the City of Cape Town metropolitan municipality.
Not surprisingly, the number of VMMC procedures at Jhpiego's Cape Town location plunged to zero from an average of 909 for the first three months of 2020, as a result of COVID-19. Now, the clinic is back to performing up to 20 free circumcisions daily for men ages 15 and above.
We believe we are getting to where we are because we're sitting down and listening to our clients. Our customer care is most important."

Siyabonga Valtyn, clinical coordinator for Jhpiego and a professional nurse in Cape Town
Working with the South Africa Department of Health, Jhpiego remains intent, despite the pandemic, on equipping nurses and other health providers with the skills and confidence needed to provide and scale up VMMC services.
Nurse Ncumisa Dlamini emphasizes the importance of "getting to know the clients so that I can provide care that better addresses their needs . . . and treating my clients with respect and dignity, and involving them in all decisions about their health."
Nurses follow up with clients and reach out to others by phone, creating interest in and demand for VMMC. Nurses also play a lead role in ensuring adherence to COVID-19 policies at the clinics by helping to maintain social distancing and insisting on proper mask use.
Nomajama, Ncumisa and their colleagues work in two of Jhpiego's Cape Town-based VMMC operating theaters, tucked in the second story of a brick building in an industrial park. Jhpiego offers VMMC clients free transport to this central if unusual location for circumcision and follow-up appointments. The facility is welcoming and professional, with gleaming tile floors, health-related posters, and, of course, hand sanitizer for all. A mobile clinic that takes services directly to the communities is parked outside the main clinic, serving on this day as a postoperative assessment area.
Despite COVID-19 adding a layer of precautionary protocols, the clinic operates much like it did pre-pandemic. Nurses disinfect each operating room, ensure waste containers are well placed, and screen clients for tuberculosis, hypertension, diabetes and prostate cancer as well as for COVID-19. The staff works expeditiously so that clients spend as little time in the facility as safely possible to minimize chances of SARS-CoV-2 exposure for themselves and their clients.
Two groups of nurses provide services at the ManUp Clinic: four professional nurses who perform the VMMC procedure, and three enrolled nurses who handle pre- and postoperative screenings and assessments. But everyone pitches in, with professional nurses sometimes making client calls and enrolled nurses occasionally helping to prep for VMMC surgeries. A medical officer oversees the procedures per the clinic's quality assurance protocols.
Because it's not unusual for clients to feel nervous about the VMMC procedure—quick and simple though it is—the nurses' ability to build rapport is paramount. Taking pride in putting clients first, Jhpiego nurses have strived to provide quality care for every one of the 5 million-plus men served to date in Jhpiego VMMC programs across East and Southern Africa.
As nurse Valtyn can attest, "You must have a heart to assist the clients."
Laura Pohl is a communications consultant based in South Africa. Zolani Barnes is a manager for partnerships and programs for Jhpiego. Siyabonga Valtyn, of the Jhpiego South Africa office, and Maryalice Yakutchik, global communications manager, contributed to this story. Illustration by Gideon Mureithi of Jhpiego Kenya office.
Jhpiego believes that when women are healthy, families and communities are strong. We won't rest until all women and their families—no matter where they live—can access the health care they need to pursue happy and productive lives.
Donate now!