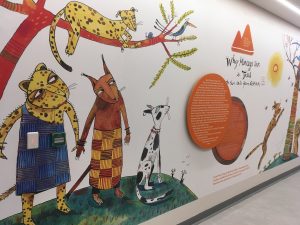 As the nurses at the new Nelson Mandela Children's Hospital in Johannesburg escorted their patients into the imaging room for an MRI, Kristina Hoerl, a registered nurse educator at The Johns Hopkins Hospital specializing in radiology, scanned the hallway—the traffic in and out of adjoining rooms, the stretchers lined up, the safety zones.
Hoerl was among a group of Hopkins nurse specialists who visited the Nelson Mandela Children's Hospital as part of a 3-year professional development exchange to realize the vision of the hospital's namesake—the venerable and beloved Nelson Mandela—to offer the best in pediatric health care to southern Africa's children, the region's most precious resource.
Through this unique partnership, the Hopkins nurses are working with colleagues at the Mandela hospital to promote and support a new group of nurse leaders who will offer the region specialty care that is not readily available elsewhere.
The assessment and training exchange is funded by the U.S. Agency for International Development through its global flagship Maternal and Child Survival Program, which is led by Jhpiego, a Hopkins affiliate and global health nonprofit. The South African nurses will visit the Johns Hopkins All Children's Hospital in St. Petersburg, Florida, and the medical campus in Baltimore before the end of the year.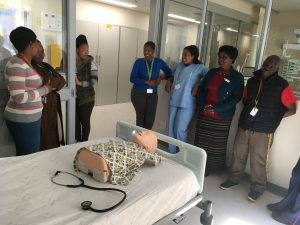 Hoerl, a 30-year nursing veteran, and the other Hopkins nurses visited the Mandela hospital in late summer through Johns Hopkins Medicine International (JHI). There, they led a series of workshops on peri-operative care, radiology, dialysis, cardiology and nursing leadership topics.
After Hoerl's visit to the MRI center, she discussed with the South African nursing supervisors some emergency responses that might require staff to move patients to a safe zone—and away from the strong magnetic force—such as performing CPR on a child who stopped breathing during a radiology appointment.
"You want to get the patient out (of this area) and do the resuscitation elsewhere," Hoerl explained.
Hoerl—along with Kathleen Altemose, a third-year fellow in pediatric nephrology; Wilma Berends, a nurse consultant for JHI; and Kimberly Sexton, a peri-anesthesia pediatric nurse—traveled to South Africa with Ramish Rambissoon, JHI Global Services director.
During the training sessions at the Nelson Mandela Children's Hospital, the South African and American nurses discussed a range of issues, including leadership skills, standards of care, performance management, medication administration, cardiac catheterization and patient confidentiality.
"I learned that nurses all over the world face the same challenges," said Berends. "It doesn't matter if you are in the United States, South Africa, Lebanon or the Netherlands."
The week-long visit was a cultural as well as professional experience for the Hopkins nurses. Kim Sexton had never traveled to Africa before and found Johannesburg "very welcoming." She admired the skills of the South African nurses who attended her lecture on ventilating patients.
"There were so many people there who had a great knowledge (base) and experiences," said Sexton. "I was very inspired and honored to be a part of it. I'm still sending suggestions and information to the nurse managers there."
The South African nurses provided valuable feedback for future collaborations, the Hopkins nurses said. For example:
Met the objectives. Thanks a lot for all the information. I positively recommended you to come again for more training. The radiology part really amazed me. Great job. . . We love you.
Your experience with children and your calm nature makes the lectures less intimidating and interesting.
Cardiac lecture was really nice. I was having difficulties in interpreting ECG so it really helped me a lot.
It was very interesting and educational to have nursing experts from a different landscape and background come in and share their expertise and experience with us in our new SA children's hospital. Hopefully we were able to share some of our own practices that are worthwhile and good/safe so as to help them share those and take back home to practice in their clinical areas!
A comment by one South African nurse reflected the feelings of several others when she summed up the benefits of the training this way: Learning definitely occurred. I will be able to confidently impart knowledge gained. Enjoyed each and every activity. Please share more information and research as we are a new hospital that aspires to become world class.
Ann LoLordo is a director of the Global Engagement and Communications Office at Jhpiego.
Jhpiego believes that when women are healthy, families and communities are strong. We won't rest until all women and their families—no matter where they live—can access the health care they need to pursue happy and productive lives.
Donate now!