Jhpiego mobilizer Lindokuhle Hlongwane and his team pull their Kombi van to a stop on the road just outside a client's home in Rockdale, a village in uThukela District in KwaZulu-Natal province, South Africa, to drop off medication. Being careful to maintain a social distance, Lindokuhle gives his client, who is living with HIV, her refill of antiretrovirals (ARVs), reminds her how to protect herself and her family against COVID-19 and hops back in the Kombi to go meet his next client.
As South Africa prepared to enter a nationwide lockdown in late March, Jhpiego's team in South Africa recognized the urgency of supporting the government in its response to the outbreak. In coordination with the U.S. Centers for Disease Control and Prevention (CDC) and the South African Minister of Health, the team quickly converted their voluntary medical male circumcision (VMMC) sites into COVID-19 screening sites, tasked clinical staff and community mobilizers with home deliveries of essential HIV medicine and helped guide efforts to prevent, screen and treat citizens in the districts of KwaZulu Natal and city of Cape Town where Jhpiego works.
Raising awareness about COVID-19 began with mobilizers like Lindokuhle. Instead of traveling to communities to talk to South Africans about preventing HIV through VMMC, he and others now explain the signs and symptoms of COVID-19, screen households for referral to testing and deliver ARVs to people living with HIV. And, they provide a much-needed connection to the outside world, talking with families about the challenges of isolation and social distancing.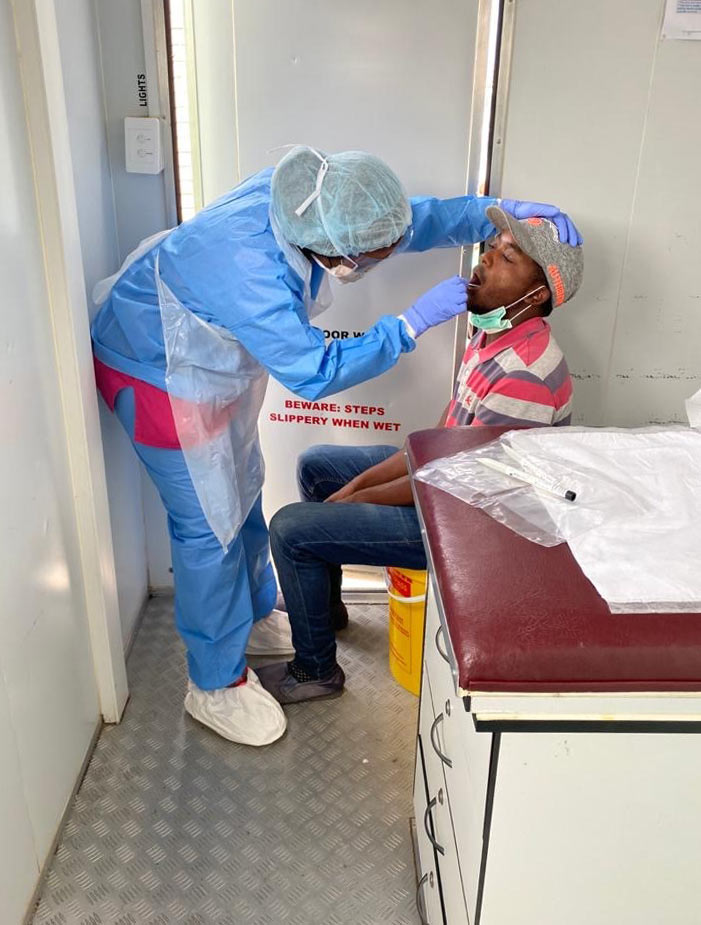 The delivery of ARVs allows people living with HIV to avoid visiting health facilities, where there is greater risk of infection with COVID-19. One of the 83 clients currently benefiting from the Jhpiego team's services shared how difficult it would be to receive his medication had it not been for the home deliveries, which offer care and hope in these uncertain times. "It is very scary," he said. "Everyone here is at risk of getting infected, especial[ly] myself, because I am HIV-positive."
Jhpiego's South Africa Country Director, Mehebub Mahomed, notes that mobilizers initially expressed fear and reservations given the many unknowns of the novel coronavirus. "But," he adds, "as they came to understand, they embraced it and are now leading teams."
Before embarking on the new task, Jhpiego mobilizers received training on COVID-19, including how it spreads and how they can protect themselves and others. They also learned how to demonstrate handwashing, sanitizing, social distancing and using masks. Mobilizers are equipped with personal protective equipment (PPE) and screened for COVID-19 daily when they report for duty.
In addition to community mobilizers, Jhpiego clinicians who were providing CDC-funded VMMC services before the lockdown are now testing clients for COVID-19. They work out of mobile outreach vans, traveling to communities, including virus hotspots.

Dr. Thandi Ncube, who leads one of the mobile teams, describes the quick pivot: "One day I was performing VMMC and the next I was in the forefront of the COVID-19 response team. I had to change my mindset."
Dr. Ncube reports that her team is seeing far more clients than previously, with less time to spend with each. Echoing health care workers around the globe, she is concerned about the availability of PPE and testing supplies. She also worries about the well-being of her staff, so takes time to listen to their fears and make sure they're using their PPE correctly.
"If everyone does their part," she says, "then we can conquer COVID-19."
Together with the South Africa Department of Health, Jhpiego's clinical teams are doing their part, having screened more than 22,513 individuals and performed 4,278 tests.
As South Africa reopens (the lockdown began to loosen earlier in May), Lindokuhle remains committed to ensuring that vulnerable clients can stay safe and healthy. Likewise, Dr. Ncube will continue to screen patients for COVID-19 , ensuring that those who test positive have the information, care and resources they need.
Zolani Barnes is a Manager of Partnerships and the Western Cape Programme, Jhpiego South Africa.
Wandile Sibisi is Demand Generation Coordinator, Jhpiego South Africa.
Lungisani Mazibuko is Demand Generation Officer, uThukela District, Jhpiego South Africa.
Jhpiego believes that when women are healthy, families and communities are strong. We won't rest until all women and their families—no matter where they live—can access the health care they need to pursue happy and productive lives.
Donate now!