Allah Ditta, an ambulance driver in Islamabad, has worked overtime for months, ferrying patients to one of many quarantine facilities set up across Pakistan's capital to mitigate the spread of COVID-19. Likewise, Abdul Majeed, an attendant at a quarantine facility, is working around the clock to ensure that the facility stayed clean and biomedical waste was disposed of properly.
Ditta and Majeed are part of a critical team of administrative and logistics support staff that includes ambulance drivers, cooks, janitors, food handlers and security guards. Often unnoticed, this team is vital in ensuring the safety of patients—from admission to discharge—and works relentlessly to prevent the spread of infection within these facilities.
When COVID-19 cases were first reported in Pakistan in February 2020, health care workers and support staff were unsure of how to most efficiently respond to the needs of the community. Under the COVID-19 Pandemic UNFPA Global Response Plan, Jhpiego worked with the government to establish protocols for quarantine facilities that would adequately and safely meet the demands of patients and the frontline workers who care for them. Through a series of trainings, frontline health workers and support staff learned how to meet the needs of quarantined patients while protecting their own safety and mental health.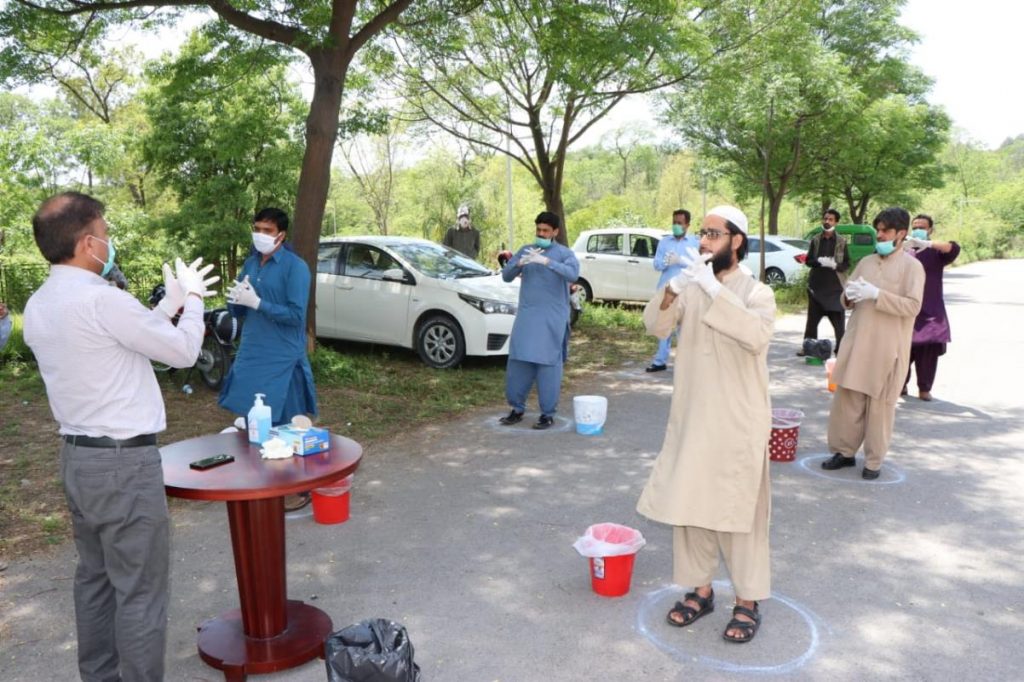 These onsite Jhpiego trainings provided instruction for support staff about how to keep quarantine facilities clean and disinfected, and prepared them to handle an influx of patients. Ditta is among more than 1,000 people trained to date. Happy with having learned more about how to disinfect his ambulance, he said, "The training also helped me in understanding why hand sanitization is so important when driving and interacting with quarantined patients. I also learned how and when to wear gloves and masks, which, in my profession, is critical information."
Other essential support team members also benefited. Housekeeping staff learned how to wash and disinfect linens while ensuring minimal contact with patients. Janitors were taught how to clean surfaces, disinfect rooms and other high-contact areas, and dispose of trash bags properly from rooms of isolated patients. Food handlers received training on how to package food safely while providing incoming patients with all necessary and sanitized tools for self-care, such as combs, toothbrushes and nail clippers.
Just as crucial as updating health workers' skills and knowledge to care for people with COVID-19 is the need to continue essential health care services, such as maternal and newborn care. With clients afraid to visit health care facilities for fear of contracting the highly contagious virus, health workers need to ensure the safety of essential services for all. To this end, Jhpiego, through its Integrated Health Systems Strengthening and Service Delivery program, supported by the U.S. Agency for International Development, has been providing infection prevention and control trainings to health workers in Charsadda, a marginalized and remote district in Pakistan's northwestern Khyber Pakhtunkhwa Province.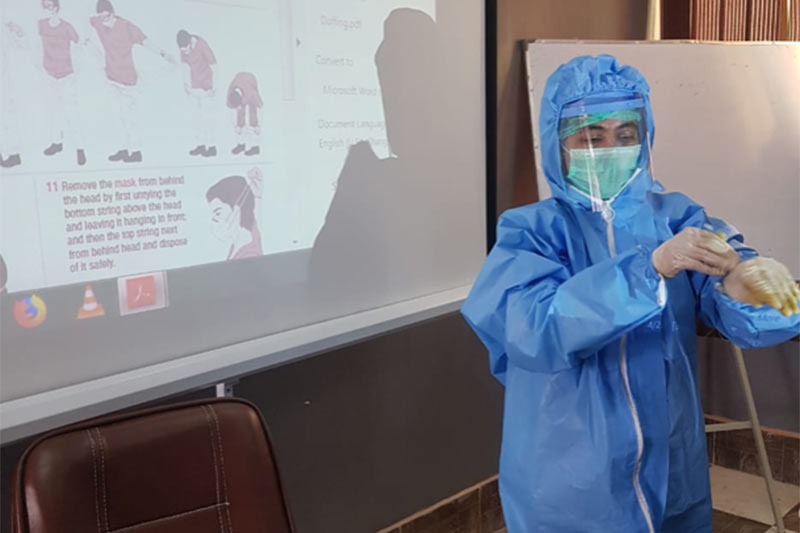 The program conducted a two-day, in-person training on effective measures to prevent infection and raise awareness about the pandemic. The training covered the correct use of personal protective equipment, preparation of quarantine facilities, waste management practices, screening and isolation protocols, cleaning and disinfection procedures, clinical management of exposed individuals, hand hygiene and gender-sensitive approaches when working with vulnerable community members.
Dr. Riaz Amanullah, medical officer at the district health office in Charsadda, says the training, taken by 700 health care providers in 117 facilities, "could not have been more useful.
Jhpiego has given us the tools to make sure that we can guide the people of the district and prevent the catastrophic levels of infection that other places have seen.
The fight against the spread of COVID-19 requires dedicated individuals at all levels of the health care system—some more visible than others, but all equally critical. Jhpiego's holistic approach aims to equip and strengthen each pillar of Pakistan's response to this crisis—from janitors to health care providers—with the information, skills and confidence necessary to face this pandemic.
Hasan Raza is a communications specialist for Jhpiego in Pakistan. Maryam Piracha is a former a consultant/communications specialist for Jhpiego's COVID-19 Emergency Response. Indrani Kashyap is Jhpiego's Asia Region communications specialist.
Jhpiego believes that when women are healthy, families and communities are strong. We won't rest until all women and their families—no matter where they live—can access the health care they need to pursue happy and productive lives.
Donate now!