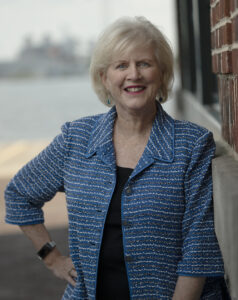 BALTIMORE, MD – Governor Larry Hogan, alongside the World Trade Center Institute (WTCI), the Maryland Department of Commerce, and business leaders from around the state today presented Dr. Leslie Mancuso, the President and CEO of Jhpiego, with the 2021 Governor's Award in recognition of her sustained leadership in global health and support of the state's international business community.
The award – the highest international leadership award given by Maryland's governor – was presented Tuesday evening during the WTCI's 25th Maryland International Business Leadership Awards ceremony held at Baltimore's American Visionary Art Museum.
"For nearly 20 years I have admired Leslie's outstanding leadership and stewardship of Jhpiego. She has led its incredible growth year after year all around the globe. Despite her exhaustive international travel schedule, Leslie has always found time to share her experiences and learnings with the next generation of leaders across WTCI's many events and programs. Without a doubt, Leslie is a most deserving recipient of the Maryland Governor's International Leadership Award," said Todd Ruppert, WTCI's chairman of the Board of Directors.
The annual event celebrates the WTCI's mission, international reach, and community involvement of Maryland's top global companies and acknowledge the state's global success through the recognition of a handful of recipients who exemplify international business growth, growth in the State of Maryland through workforce development and/or revenue growth, and support efforts to give back to the local community.
"I want to thank Governor Hogan and the World Trade Center Institute for this incredible honor. I am always proud to be part of Jhpiego's hometown," said Dr. Mancuso. "This award will shine a bright light on the work of thousands of my colleagues across the globe, men and women who are transforming futures in countless at-risk communities. They realize Jhpiego's mission every day, fueled by the belief that all people deserve lives of dignity and good health."
Dr. Mancuso is a recognized international business leader with decades of experience leading large international nonprofits and developing public-private partnerships with organizations such as the Bill & Melinda Gates Foundation and Merck for Mothers—as well as the US government, including USAID and CDC. She was appointed as Jhpiego's President and CEO following a 13-year career with Project HOPE, where she served as Chief Operating Officer and then as acting CEO. Dr. Mancuso oversees Jhpiego's longstanding and extensive relationships with international agencies; foreign governments and ministries of health; nursing, midwifery and medical schools; professional associations; and nongovernmental organizations.
"Dr. Mancuso has spent her career laser focused on one goal: ending the needless maternal and child deaths that result simply due to lack of access to basic health care. Today, after nearly two decades at the helm of Jhpiego, she is still driving the organization's work to expand access to lifesaving health care for all people, whoever they are, wherever they live," said Anuradha Gupta, Deputy CEO for Gavi, the Vaccine Alliance. "Under her leadership, Jhpiego has grown tremendously—from a small, domestic organization that works internationally to a truly international health organization currently active in 40 countries. Dr. Mancuso is a tireless force for good who understands that healthy families and communities begin with healthy women and girls."
About Jhpiego
Jhpiego (pronounced "ja-pie-go"), an affiliate of Johns Hopkins University, creates and delivers transformative health care solutions that save lives. In partnership with national governments, health experts and local communities, Jhpiego builds health providers' skills and develops systems that save lives now and guarantee healthier futures for women and their families. Since 1974, Jhpiego's work to save lives and improve health has reached people in 155 countries worldwide. For more information, go to www.jhpiego.org.
---
Media contact: Ann LoLordo, Ann.LoLordo@Jhpiego.org, 443-831-3834