Islamabad, Pakistan — Muhammad Hamza, a 22-year-old student of dentistry, arrives at the 24/7 mass vaccination center for his COVID-19 booster. He registers with the attendant, who logs his personal details into the National Immunization Management System. Then he moves to the vaccination room where he receives his booster shot. The whole process is completed in 10–15 minutes without any glitches—unprecedented for a public health facility in Pakistan.
---
My experience of COVID vaccination has been seamless and the staff deputed has been every helpful in ensuring the people are vaccinated on time,"

Muhammad Hamza
---
Hamza is just one of the more than 200 million people who are protected against COVID-19 in Pakistan. Jhpiego has been part of this effort, thanks to a technical assistance grant from Gavi, the Vaccine Alliance. With Gavi support, the country has fully vaccinated more than 80 million people—52% of the target population—and reached more than 122 million with a single dose in less than a year—a remarkable achievement.


At request of the Federal Expanded Programme on Immunization (EPI), Jhpiego developed a national standardized checklist and set of guidelines for supportive supervision of COVID-19 vaccination to improve services. Across the country, supportive supervision was conducted using the checklist, which covered 10 key indicators (see text box), to document observations from vaccination sites and to record proposed solutions.

The Federal EPI also requested that Jhpiego provide monitoring and supportive supervision to 80 facilities in the provincial capitals of Karachi, Lahore, Peshawar, Quetta, Islamabad and the Islamabad Capital Territory. Jhpiego recruited, trained and provided supportive supervision for five provincial monitors who carried out the activities and collected the data.

During the seven-month project, the Jhpiego provincial monitors collectively made 671 supportive supervisory and monitoring visits, including 153 coaching sessions, 206 training sessions for more than 450 health workers, and 66 progress review meetings with the provincial and district managers. Jhpiego also provided supervisory support, jointly with both federal and district EPI offices and relevant departments, during periodic visits of adult vaccination centers to ensure compliance with operating procedures, guidelines and data entry in the National Immunization Management System.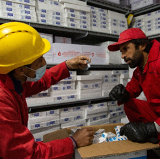 Monitors collected data from supportive supervision activities through the web-based mobile application KoBoCollect. They shared daily reports with federal and provincial EPI teams to watch for emerging issues such as human resource shortages, cold chain maintenance and proper waste disposal. The Federal EPI took prompt actions to mitigate problems. Monitors also shared and presented monthly progress reports with Federal EPI and partners. Monitors' reporting compliance on KoBoCollect was outstanding: 96% of reports were received and analyzed.

Data demonstrated the value of a standardized supervision checklist administered in a supportive and problem-solving manner. Performance across all 10 indicators improved 17 percentage points; guidelines and trainings showed the biggest improvement with a 32-percentage-point gain to 90% at the final assessment in January 2022. Supportive supervision identified best practices, gaps and possible corrective measures and improved the understanding of staff on vaccine service delivery, including self-protection and safety of clients. On-the-job trainings improved cold chain maintenance, infection prevention and control, management of adverse effects following immunization and waste disposal.

The project team noted that supportive supervision by provincial monitors and provision of materials were instrumental in building the trust of facility staff. At the same time, engaging health facility staff to identify problems and provide amicable solutions proved to be the best strategy to enhance the quality of services. And, as health facility staff increased their knowledge of vaccines and safe injection practices, community trust in facilities also increased.
Supportive supervision checklist indicators for compliance with COVID-19 standard operation procedures (SOPs) in vaccination centers.

• Infrastructure
• Communication materials
• Human resource availability
• Cold chain and vaccine storage
• Guideline and training on SOPs
• Knowledge, attitude and practices
• Adverse effects following immunization readiness
• Infection prevention and control
• Waste management
• Data management

In December 2021, Gavi extended Jhpiego's contract to orient provincial EPI offices to continue supportive supervision in all the COVID-19 vaccination facilities through government and partner monitors. The pandemic has taken a toll on many people in Pakistan, including dentistry student Hamza's family. "The process of vaccination must not slow down. We see as the number of cases drops, a large number of people get comfortable and stop practicing preventive measures and skip their due doses of vaccination," he said. "We have to stay vigilant until everyone is vaccinated."

Ammar Zafarullah is the communications specialist in Jhpiego's Pakistan office.
Jhpiego believes that when women are healthy, families and communities are strong. We won't rest until all women and their families—no matter where they live—can access the health care they need to pursue happy and productive lives.
Donate now!