Bhakti Hansoti, a Johns Hopkins emergency medicine physician, brings a visceral understanding of COVID-19 to her work with Jhpiego, assessing and ensuring that health facilities across the world are equipped and ready to manage severely ill patients during the pandemic.
Hansoti, who was pregnant in March when she became ill with novel coronavirus, cautiously says her baby is "due at the end of September. Hopefully.
It's been a rocky road. I can't walk and talk at the same time. I can either do one or the other, which is really difficult because I'm a multitasker. I don't know when I'm going to get better. Or if my unborn child is going to be OK. We just take it week by week.
Soon after she got sick and went on supplemental oxygen at home, her husband, also a physician, tested positive for COVID-19. After joking with his wife about the fun they'd have quarantining at home together, he tanked fast and landed in the hospital ICU where he works, convinced he was going to die, leaving his pregnant wife with their toddler daughter.
Both are now back to work. On this day, while juggling the needs of her family and a long shift in the Johns Hopkins Hospital Emergency Department, Hansoti spends more than an hour conferring with global partners, including Jhpiego's experts on infectious diseases and health systems strengthening.
Her own life forever altered by this pandemic, Hansoti offers a unique perspective steeped in intelligence, compassion and resilience as she helps to support seven of the 35 countries where Jhpiego is involved in preventing, detecting and responding to COVID-19. The team charged with implementing Reaching Impact, Saturation, and Epidemic Control, a five-year global project with partners in 46 countries funded by the U.S. President's Emergency Plan for AIDS Relief and the U.S. Agency for International Development (USAID), values her insight as it delivers services, technical assistance and health system support in response to the pandemic.
"COVID-19 management is not rocket science; it's just really good medicine steeped in complex physiology," says the 37-year-old doctor, who runs a Johns Hopkins virtual COVID-19 seminar series that reaches participants across 60 low- and middle-income countries. Clinicians and ministry of health officials share their questions and concerns about everything from ramping up contact tracing to implementing policies on symptomatic diagnoses and quarantine where testing is limited. "But it requires an understanding of restrictions based on resources, cultural norms and underlying health disparities."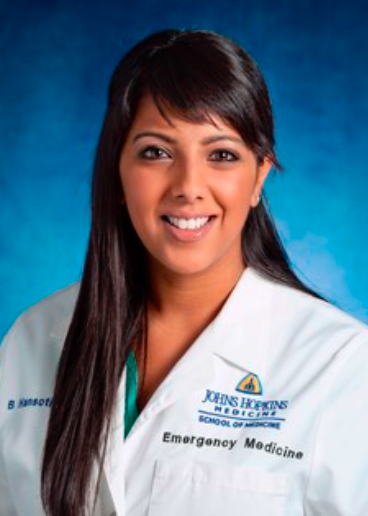 Born in India and trained in the U.K., Hansoti brings deep knowledge to the COVID-19 fight, especially of vulnerable populations and in fragile health systems. Since 2003, she has lived and worked abroad in Liberia, South Africa and Ghana, for example.
She describes herself as a realist—but a hopeful one. "We pray that the people we love don't get sick. We pray that the communities we work in become resilient and survive the storm."
When she hears people discount COVID-19 as a hoax or sees them taking not even the simplest precautions, such as social distancing and wearing masks, she experiences something akin to the stages of grief, she says.
"I initially start off with anger. But the challenge is that what we're facing right now is so unimaginable, it has such gravitas, that unless you've experienced this personally, it's hard to see what people are talking about. And that is compounded by misinformation on social media, which is people's main access to information nowadays. And so, I kind of get it. They don't want to believe it. And then there's also, they haven't experienced it themselves, so how can they believe it?"
Hansoti believes in evidence-based medicine and trusts that new networks and collaborations, like the one that she and Jhpiego have forged, will lead to a better understanding of the vulnerabilities of the health and economic systems that support communities, and ultimately will build resilience.

Maryalice Yakutchik is Jhpiego's Communications Manager.
Jhpiego believes that when women are healthy, families and communities are strong. We won't rest until all women and their families—no matter where they live—can access the health care they need to pursue happy and productive lives.
Donate now!