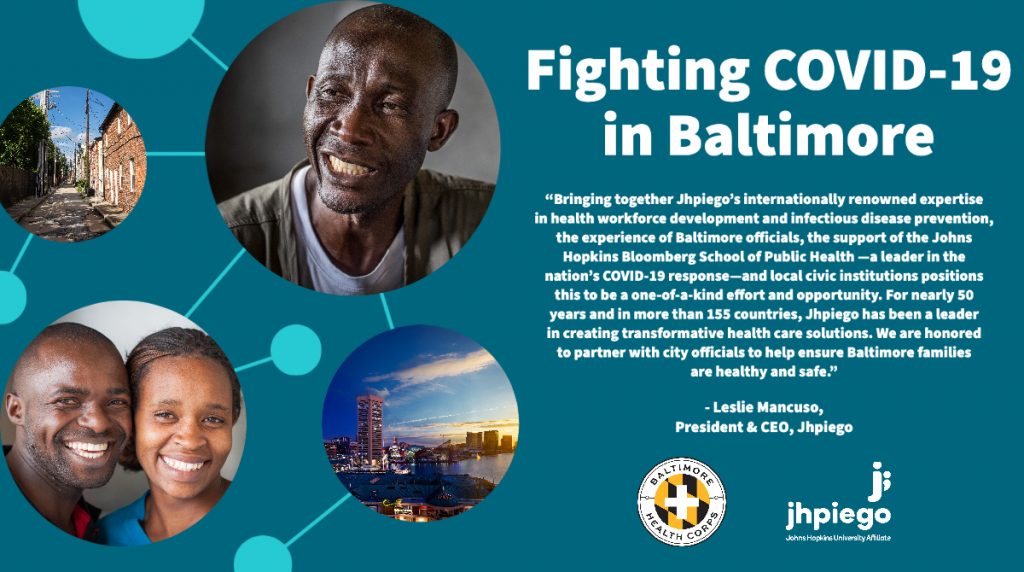 Jhpiego is proud to be supporting the Baltimore City Health Department in its broad response to COVID-19 with case investigation and contact tracing, which involves the provision of training, implementation, quality assurance, and monitoring and evaluation. The innovative centerpiece of this response—which the city and its partners, including Jhpiego, intend to be a model for the nation—is the Baltimore Health Corps project.

Kristina Grabbe, a senior technical advisor on Jhpiego's HIV/AIDS and infectious diseases team, offers insight about Jhpiego's role in this health and economic recovery jobs program, which aims to trace transmission of the novel coronavirus in the city we call home, stop the pandemic in its tracks and help communities across the city thrive.
Jhpiego has been headquartered in Baltimore since its founding, almost five decades ago. And although we've engaged with our hometown in lots of ways—the annual Miles for Mothers race/fundraiser, for instance—this is the first time we'll actually be working here, partnering with our city, on behalf of its residents.
KG: (tapping her fingers in a mock drumroll to convey excitement) Yes, we are so elated! We jumped at this opportunity to contribute in a big way to such an important public health need here in Baltimore. It's particularly gratifying that lessons learned from our global programs now will inform our and others' work here in the US. So often, the information flow and transfer of knowledge is in the opposite direction—from north to south, from here to the 155-plus countries we've worked in—which is why Jhpiego is eager to share lessons and adapt interventions from our programs in Malawi, Lesotho and Zambia, to name a few, for a domestic setting.
We are also drawing on our experience supporting national ministries of health globally to inform how we are working with the Baltimore City Health Department and other stakeholders. We have quickly become a trusted partner, and we are excited about the possibility of expanding our domestic footprint domestically and sharing lessons with other health departments and communities as the opportunity arises. This is such a great opportunity to support Baltimore's most vulnerable communities. I can't imagine a better time than now to bring our global expertise home.
Tell us about the Baltimore Health Corps and its goals.
KG: Workforce development is one of the three main objectives. With the support of The Rockefeller Foundation, Bloomberg Philanthropies and others, and in collaboration with the Johns Hopkins Bloomberg School of Public Health, Jhpiego will be training several hundred Baltimoreans who are unemployed because of COVID-19 and need jobs. Some may have a previous background in community health work, but many won't. The kinds of folks we're looking to hire and train will have a wide range of skills, the most important of which is empathy. What's absolutely necessary is a desire and ability to relate to people on the other end of the phone who may be sick, scared and isolated.
And objectives two and three?
KG: The second is to respond to the public health need for case investigation and contact tracing—a method of identifying people exposed to the novel coronavirus, with the intent of preventing and containing transmission. The strategy has been used for decades in the US and abroad to assess exposure to infectious diseases, such as tuberculosis and HIV.
And the third objective involves care coordination—making sure that people with COVID-19 as well as their contacts have access to and are successfully linked with medical and social services.
When did this all start?
The official launch of the Baltimore Health Corps initiative was June 4, 2020. But Jhpiego was already busy providing support to the Baltimore City Health Department and preparing a scope of work that includes:
Developing a training framework, resources and materials for case investigators and contact tracers
Hosting training on the Jhpiego Learning Management System
Implementing training with case investigators and contact tracers, and supporting them to deliver high-quality services throughout the length of their employment
What is uniquely Jhpiego about this initiative?
Partners are relying on our expertise and efficiency in being able to create and manage a health workforce in and of the community. We were sought out because our specialty is not only training individuals from diverse populations to provide high-quality health services, such as contact tracing, but also providing the ongoing performance support that assures the consistent delivery of those services at scale. When this project begins, the Baltimore Health Corps community health workers will be at the ready with the skills and confidence to track this virus.
Jhpiego believes that when women are healthy, families and communities are strong. We won't rest until all women and their families—no matter where they live—can access the health care they need to pursue happy and productive lives.
Donate now!