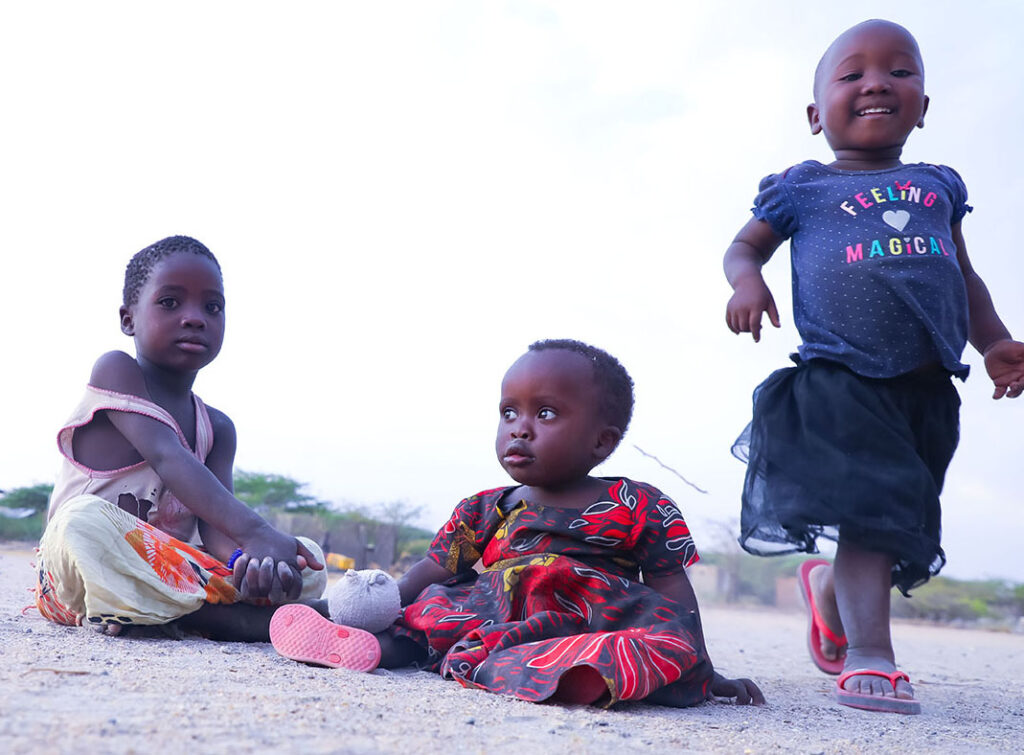 At 21 months, Neema is the picture of health, bright-eyed and toddling around her family's home.  She plays hide and seek with her two older sisters and laughs with glee. It's a relief to her mother, who just three months ago, sat with her very sick daughter in the local hospital, trying to comfort the frail and sleepless child.   
During a home visit in early January 2023, a community health worker recognized the signs of malnutrition in Neema. The toddler was listless, underweight and her skin was cracked and dry. She urged Neema's mother, 23-year-old Regina Samson, to take the child to the nearest health facility.   
We did not know why she was always crying. I was worried because she could not sleep at daytime or at night. We tried everything. Even if you bathed her, she would not sleep."     

Regina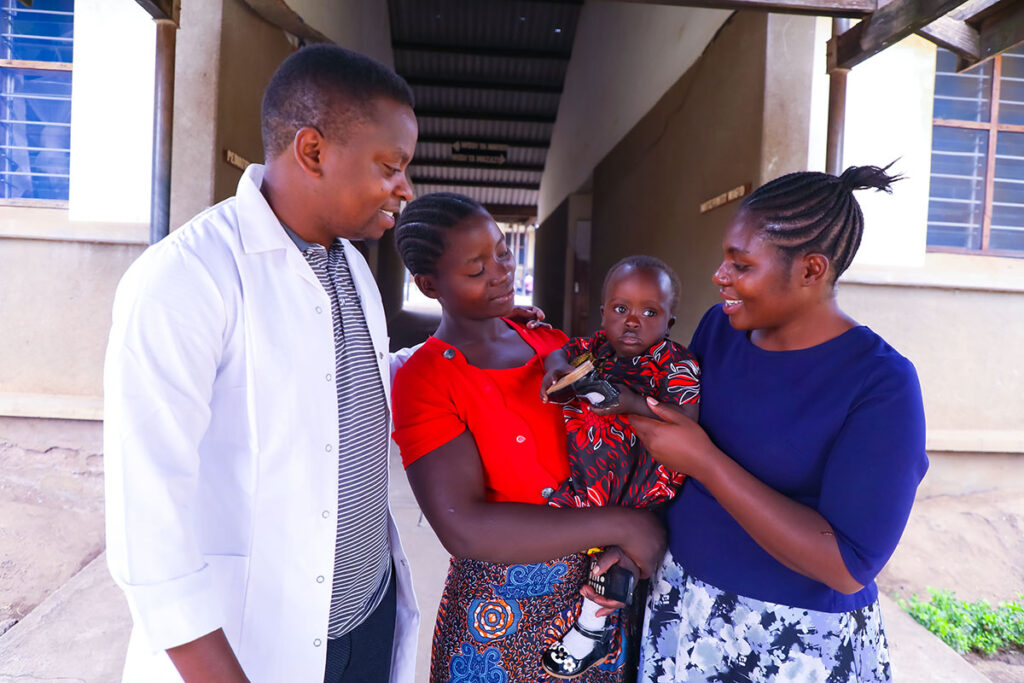 At the health facility, Neema was checked and found to have a severe form of malnutrition. Both mother and baby were admitted.     
"First, they gave her a nutritious supplement to treat the severe malnutrition. Then later gave her milk and soft food. Her appetite and weight improved day after day," says Regina. During Neema's treatment, Regina attended nutrition education sessions that highlighted the importance of feeding young children with nutritious, well-balanced food.   
Awareness of malnutrition is not common in Bunda and many caregivers like Regina don't know how to recognize the signs. Through the support and engagement of community health workers, the U.S. Agency for International Development (USAID)-funded Afya Yangu-Reproductive, Maternal, Newborn, Child, and Adolescent Health (RMNCAH) project aims to increase treatment of malnourished children. Community health workers can reach a far larger number of children in a much more cost-effective way than health facilities. They also offer basic treatment and support to families and refer the more serious cases to the local health facility.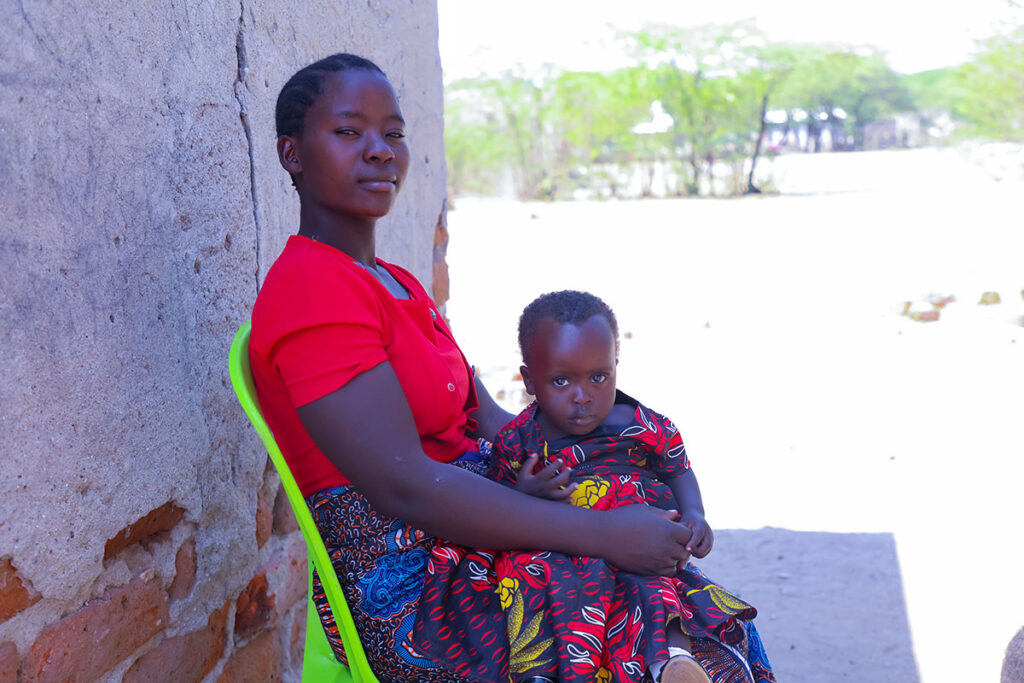 In partnership with the Ministry of Health, Jhpiego leads the USAID Afya Yangu ("My Health") RMNCAH project, which seeks to improve access to quality, client-centered health services at facility and community levels in 11 regions of Tanzania. The project team includes organizations from Tanzania (Tanzania Communication and Development Center, Benjamin Mkapa Foundation, and Amani Girls Home), Kenya (AI-Fluence) and the U.S. (Manoff Group and D-tree International).   
One of the ways  the project is improving health services is by holding educational sessions for facility-based health care providers on identifying and handling malnutrition cases and educating families on preparing locally available nutritious food, including therapeutic food to manage severe malnutrition.   
Lucy Mwaluwyo, a nutrition district officer at Bunda Town Council, says that, "Before the training, I had limited information in handling malnutrition cases." Now, she trains other health care providers.   
Children with acute malnutrition are referred to the regional hospital several kilometers away. But, for families who could not afford the cost of medical nutritional supplements, there was a risk they'd leave the hospital before their child was treated. "It was serious," says Lucy. "Learning how to prepare local nutritious food removed this barrier. When the supplementary feed is not available, we teach caregivers how to prepare local nutritious food, which has the same impact and is readily available."   
In the first four months of the project, USAID Afya Yangu-RMNCAH project trained 27 health care providers who have reached 102 caregivers and treated 76 children in the Mara region. Children like Neema. "As a mother, I'm happy to see my child's health has improved," says Regina. "Her health gives my heart peace and that makes me satisfied and fulfilled. My desire now is to work hard and see my child succeed in life—free from malnutrition."   
Bina Valsangkar, MD MPH FAAP, Principal Technical Advisor, Maternal Newborn Health, reviewed this article.
Dominic Fortunatus is a Communications Officer in Jhpiego's office in Tanzania. 
Jhpiego believes that when women are healthy, families and communities are strong. We won't rest until all women and their families—no matter where they live—can access the health care they need to pursue happy and productive lives.
Donate now!