Manipur, India—It's 2:00 p.m. and Ranita Maibam pauses outside her house to rub her hands with hand sanitizer. She has just returned from a 10-hour shift tending to people in quarantine who have had close contact with COVID-19. Her quarantine duty, held at a school converted into an isolation unit, is in addition to her regular job as a community health officer at a health and wellness center in Manipur, India, where she works double shifts.
India reported its first case of COVID-19 in January 2020; the first case in Manipur, was detected on March 22. Ranita is among nearly 38,000 health workers in India who have received training from Jhpiego in COVID-19 readiness and enhanced infection prevention and control to prepare for the pandemic and protect their communities.
The program that led Jhpiego India's response to the pandemic was NISHTHA: Transforming Comprehensive Healthcare in India. Funded by the U.S. Agency for International Development, NISHTHA provides technical assistance to the national government and 12 state governments in implementing the country's health and wellness centers under the world's largest comprehensive primary health care program, Ayushman Bharat.
Under this program, Jhpiego has been updating health worker skills by leveraging the power of digital technology—a training approach that was quickly adapted to prepare health workers for their roles in the country's response to COVID-19. In addition to providing training in messaging about the virus, screening activities, counseling of patients and basic clinical management and referrals, NISHTHA also helped state leaders prepare local COVID-19 response plans.
From holding community education sessions prior to the first reported cases in India, to setting up a WhatsApp group for quarantined residents, Ranita has been on the frontlines of the Ministry of Health and Family Welfare's efforts to contain the virus outbreak in her community. In February, when the pandemic was sweeping through China, Ranita began raising awareness on COVID-19 in the villages she serves, including among shoppers at the women-run central market. She explained how the virus can be transmitted, conducted handwashing demonstrations and distributed soaps throughout her community.
The Jhpiego training—which Ranita attended virtually, through her cell phone—took place just before she was assigned quarantine duty. "[It] gave me a platform to also ask questions and dispel my own myths related to the coronavirus," she says. "I especially found the part on roles and responsibilities of a CHO [community health officer] very useful."
After Ranita's shifts on quarantine duty, she gets one day off, then she is on duty at her health center. She works alternate nights in the quarantine unit and has been recruited to train other district-area health workers in the appropriate use of personal protective equipment. She also continues to mentor community health workers at her wellness center.

Living in a small home with her elderly mother-in-law, husband and two children, Ranita is constantly aware of the need to keep them safe. In addition to rubbing her hands with hand sanitizer before opening her house gate, she follows a special routine when she returns home from work. "Upon getting into the house, I don't talk to anybody and go straight for a bath. I dip my clothes in the antiseptic solution and take a warm water bath."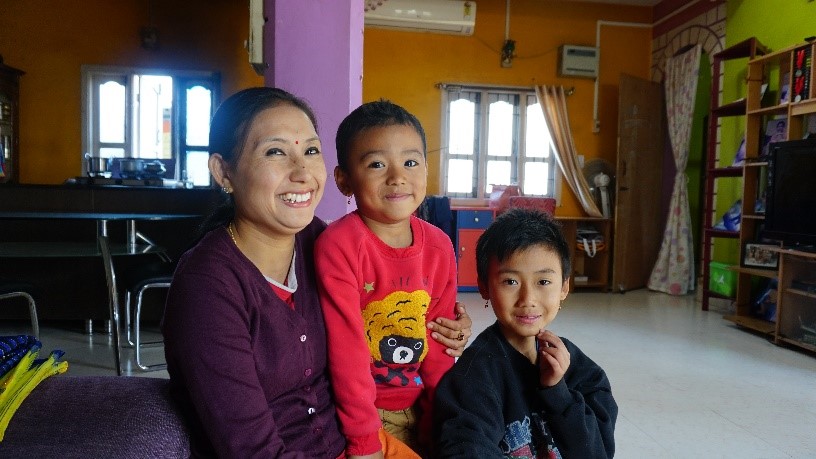 She goes on to explain, "I sleep in a separate room as my bedroom is quite small. It is a bit hard to have my kids away from me and not come to hug me as they usually do, but it is always better to be careful and follow every precaution."
Despite these hardships, Ranita shows up for every shift. As she explained to the women at the market when she first began educating people about COVID-19, "I cannot stay at home because I am a health worker, but you can help me by staying at home and reducing the spread of infection . . . We need to be prepared physically and mentally to fight this pandemic."
Indrani Kashyap is the Asia Region Communications Specialist and Krithika Murali is the Documentation Officer, Jhpiego India. Program Officer Ngasepam Monota also contributed to this article.
Jhpiego believes that when women are healthy, families and communities are strong. We won't rest until all women and their families—no matter where they live—can access the health care they need to pursue happy and productive lives.
Donate now!