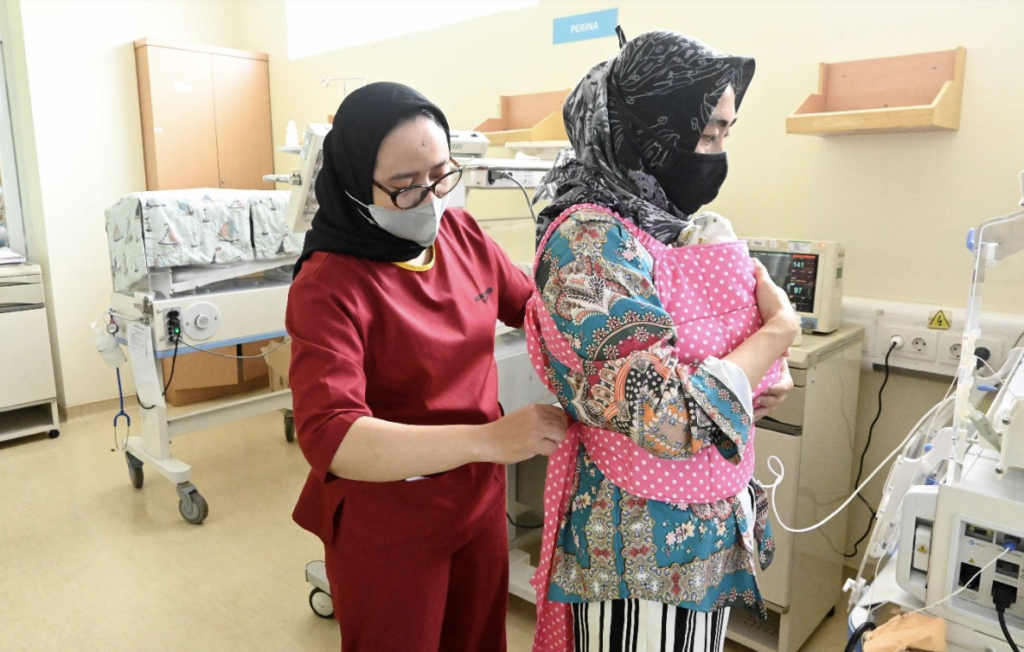 Laili Harkita's pregnancy was a tough one. When she finally gave birth at 36 weeks, her baby weighed just 1,900 grams, or four pounds. Jhpiego-trained midwives at Alia Hospital, a private maternity facility in South Jakarta, Indonesia, cared for the newborn, following strict infection prevention protocols. The midwives taught Laili to hold the infant skin-to-skin, similarly to how kangaroos hold their babies. Health workers from Indonesia to Côte d'Ivoire are teaching mothers and families to use this simple yet time-tested kangaroo care method to meet babies' needs for warmth, breastfeeding, infection prevention, stimulation, safety and love. It also helps small and sick newborns gain weight and thrive.
Laili's baby is no exception. One in every four babies globally is born too soon or too small, and every year, 2.4 million newborns die before they are a month old. Eighty percent of these deaths are babies weighing less than 2,500 grams at birth—referred to as low birthweight babies. Sub-Saharan Africa and parts of Asia account for most of these neonatal deaths.
"Though the world has made progress in reducing neonatal mortality, we still have a long way to go. If we want to reach global Sustainable Development Goal targets, we have to focus on small and sick newborn care, and continue pushing for quality essential newborn care, especially in fragile settings," says pediatrician Dr. Bina Valsangkar, Jhpiego's Principle Technical Advisor, Maternal Newborn Health, and a fellow of the American Academy of Pediatrics. "Two-thirds of small and sick newborns require special inpatient care, but not intensive care, to survive and thrive. Kangaroo mother care is an excellent foundation to build upon because it provides warmth, feeding and infection prevention, all in a nurturing environment," she says.
Dr. Valsangkar asks a critical question in efforts to reduce the unacceptable loss of small and sick newborns: How can we prevent babies from being born too soon or too small? For that, we need to focus on the mother and her pregnancy journey.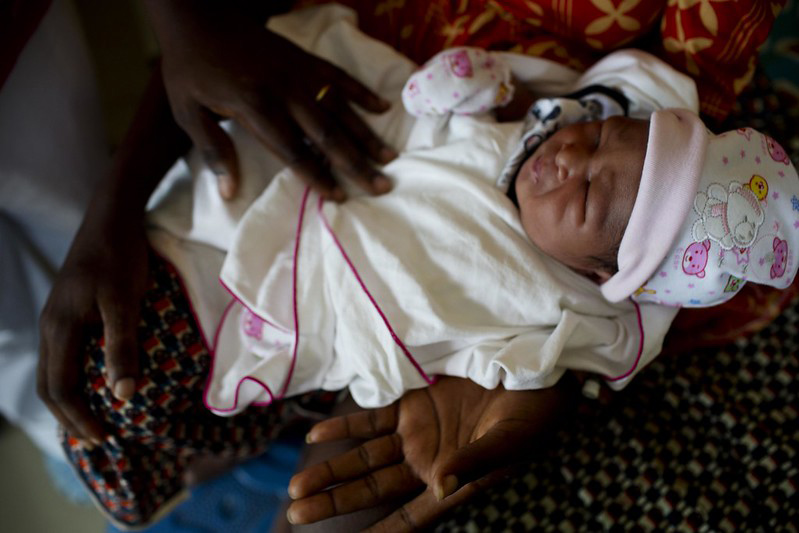 A new series in The Lancet draws global attention to the antenatal period and introduces a new conceptual framework for small vulnerable newborns, which include babies born preterm, small for gestational age and low birthweight. AlignMNH, the convening body of the International Maternal Newborn Health Conference, recently released a Masterclass video where experts explain the issues and proven solutions discussed in this important series. 
Notably, The Lancet series points to eight evidence-based antenatal interventions that must be scaled up to prevent small vulnerable newborn births: multiple micronutrient supplements, balanced protein and energy supplements, low-dose aspirin for women at risk of pre-eclampsia, treatment of syphilis, education for smoking cessation, prevention of malaria in pregnancy, treatment of asymptomatic bacteriuria and progesterone provided vaginally for women at risk of preterm birth.
From Guatemala to Zambia and Afghanistan to Indonesia, Jhpiego has been working for decades on many of the interventions highlighted in The Lancet series. Through its stewardship of the U.S. Agency for International Development's (USAID's) largest maternal and newborn health programs, including the current MOMENTUM Country and Global Leadership project, and other initiatives, Jhpiego has shared these interventions and other low-cost solutions to improve newborn health outcomes.
Ensuring a healthy pregnancy
In India, in partnership with the government of Rajasthan and with support from the Children's Investment Fund Foundation, the Born Healthy program is improving the coverage and quality of antenatal care as a pathway to reducing the prevalence of low birthweight in newborns. The program focuses on identifying and managing maternal infections (asymptomatic bacteriuria, HIV, syphilis, tuberculosis and malaria) and improving iron and calcium supplementation during pregnancy. Health workers also use point-of-care diagnostics to identify maternal infections, even in community settings. The program's success is now leading to its scale-up in other Indian states.
Caring for moms and babies in fragile settings
Attending to the needs of moms and newborns is crucial in fragile health care systems and humanitarian contexts. In Afghanistan, Jhpiego is leading a consortium of partners to strengthen maternal and newborn care through the Urban Health Initiative. This project works to enhance the skills of midwives, detect and treat malnutrition in Afghan children, and help Afghan women make informed decisions about family planning—to avoid both unintended pregnancies and babies from being born too soon and too small—among other critical interventions.
Preventing malaria in pregnancy
Across four countries in Africa—the Democratic Republic of the Congo, Madagascar, Mozambique and Nigeria—Jhpiego implemented a five-year project that introduced an innovative, community-based approach to dramatically increase the number of pregnant women across sub-Saharan Africa receiving antimalarial preventive therapy. Preventing malaria in pregnancy, especially for women living in malaria-endemic regions, helps to ensure that babies are carried to term and born at a healthy weight.
Ensuring a high-protein diet to prevent stunting and malnutrition
In Guatemala, a country with one of the world's highest rates of stunting and high maternal and newborn deaths, community health volunteers trained through the USAID-funded Health and Nutrition Project, implemented by Jhpiego, are introducing new recipes that provide high-protein supplements for malnourished families and children.
A call to action
The Lancet series on small vulnerable newborns issued a global call for action: first, make small vulnerable newborn prevention a priority; second, scale up the eight proven interventions; and third, improve measurement and accountability. Working in geographies that are disproportionately burdened with small vulnerable newborn births, Jhpiego stands deeply committed to this goal.
Sustainable Development Goal 3.2 calls for an end to preventable newborn deaths by 2030 and, more specifically, for all countries to aim to reduce neonatal mortality to at least as low as 12 per 1,000 live births. To make that a reality, we must look at newborn survival as a human right and our interventions must focus not just on the newborn, but also the mother—what we need is a fresh approach focused on the mother-baby dyad."

Dr. Valsangkar
Dr. Bina Valsangkar, Jhpiego's Principle Technical Advisor, Maternal Newborn Health, provided technical review of this article.
Indrani Kashyap is Jhpiego's Associate Director, Regional Communications; she is based in India.
Jhpiego believes that when women are healthy, families and communities are strong. We won't rest until all women and their families—no matter where they live—can access the health care they need to pursue happy and productive lives.
Donate now!