Contact tracing works. But only when people answer the call, stay on the phone and comply with the guidance and instructions offered. New data indicate that isn't happening as often as it should to tamp down the pandemic. What if Baltimoreans knew more about who was calling, and recognized the voices as neighbors, as friends?
We're pleased to introduce Cheryl, Denisha, Joshua and Olivia, four of the 150-plus contact tracers trained by Jhpiego using materials developed by Jhpiego and the Johns Hopkins University, with support from the Baltimore City Health Department, Mayor's Office of Employment Development and other partners.
---
Pure Poetry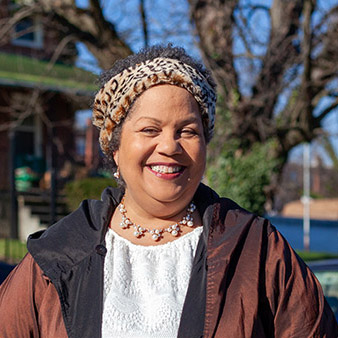 When your job is calling strangers to convey health news and ask probing questions, it doesn't help one bit to put on a game face and steel oneself, says Cheryl Crockett.
What works for her is putting a person's welfare in her heart, and softening her voice.
If what she has to say about COVID-19 inspires denial, fear or anger, then how she says it needs to nurture connection, trust and interaction, Crockett explains: "It's the tone of my voice. When I speak to them they can hear that I'm a concerned neighbor who's there for them in a time of very great need."
A very great need is exactly why Crockett, a native of Washington, D.C., landed in Baltimore several years ago. Her younger brother, a firefighter/medic, required a bone marrow transplant, so she came, and she gave. Eleven and half months later, he died, and his loss is ever present. But the way she sees it, her brother gave her an incredible gift in bringing her to this city where she has begun a new chapter in life.
"I purchased my own home here for the first time," says the 59-year-old resident of Baltimore's Belair-Edison neighborhood. "I love being here. I have new neighbors, new friends. A new community to love and protect."
Earlier this year, Crockett typed up and distributed short newsletters for her neighbors, informing them how to stay safe during COVID-19, even as she motivated virtual participation in the Black Lives Matter movement. Her message: "Protect your health so that you can have your say on Election Day!"
Protecting others is the essence of contact tracing. Crockett's goal with every call is to deliver accurate and complete information that allows people who are sick or have been exposed to take care of themselves and prevent the spread of the virus.
"I figure as long as they stay on the phone with me, we're OK," she says.
Given that calls can last three-quarters of an hour or longer, that's harder than it sounds, Crockett says. Sometimes people's phones die. Parents are distracted by their kids. Employees have bosses hovering, so calls can end abruptly, preventing people from fully understanding the difference between isolation and quarantine, or from knowing all the many resources the city and health department have to offer.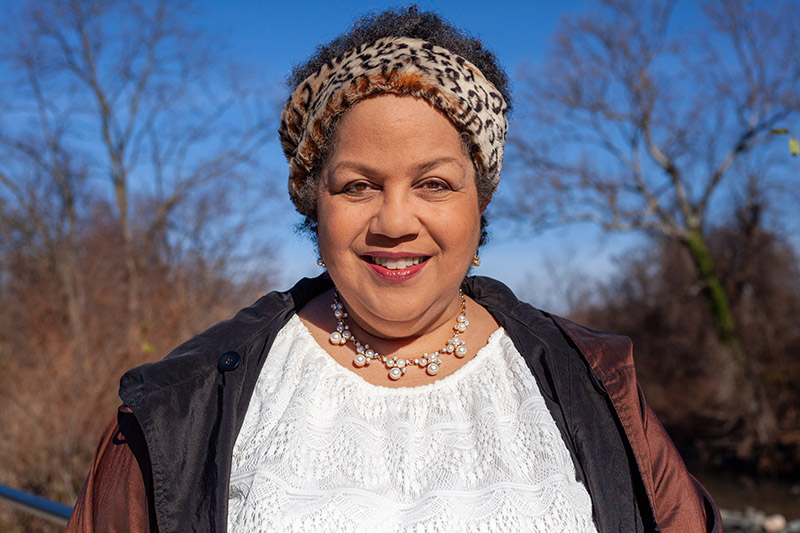 When she applied to work as a contact tracer, Crockett was newly unemployed and searching for a way to stay active on behalf of her community. The pandemic had put an end to her driving for Uber, which was keeping her busy after a long career in human resources.
Through it all, she's been a poet with a passion for teaching kids about iambic pentameter. As a classroom volunteer in pre-pandemic times, she sought out students whom teachers described as "challenging," often lobbing a Koosh ball their way to get and keep them engaged.
These days, with life-or-death instructions to share and no gimmicks at hand, Crockett's lending a soothing voice—one that's pure poetry.
---
A Lifesaving Job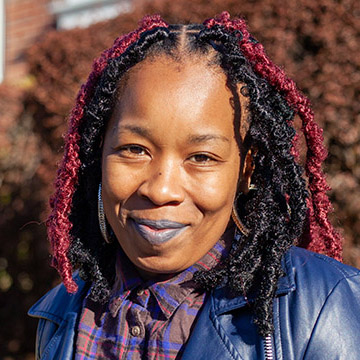 Denisha Mann, a self-described "Jane of all trades," has a resume that spans from cook and caterer to armed security guard, the latter accounting for a dozen years of employment. She also worked for a stretch as a certified nurse assistant and, until the pandemic hit Baltimore in March, as a kidney dialysis technician.
The common thread running through Mann's work history is connecting with people in need of protection and nurturing. That makes the 34-year-old Baltimore native uniquely qualified to reach out to her community as a contact tracer, to help stop the spread of COVID-19.
These days, she's taking care of Baltimoreans throughout the city. Beyond the Oliver neighborhood near the Johns Hopkins Medical campus where she grew up—a filming location infamously depicted by the HBO drama The Wire—and beyond the quiet streets of rowhomes in the northeast part of the city where she now lives and volunteers for block cleanups, in keeping with her appreciation for "lots of community engagement."
Mann applied for the contact tracing position in the summer, when she was in the throes of having suffered two great losses. Her brother had died, and on top of that, she lost her job at the dialysis center because of COVID-19. Getting up in the mornings was hard.
"I was very upset," she recalls. "Very emotional."
A friend told her about the Baltimore Health Corps. Mann recognized it as an opportunity to get back to work; to get back to life by helping others who are afraid, sick and isolated, which proved to be a salve for her own grief and pain.
These days, she works 9-to-5 from the safety and privacy of her home, talking to people about the dangers of spreading infection and the importance of keeping isolated or quarantined.
Mann's own memories of having had contact with a dialysis patient who had COVID-19 and eventually died from it remain raw. She knows firsthand the paralyzing panic and fear that are likely to infect those in her daily to-call queue. In one recent call, for example, the person had just been released from the hospital and was pleading about their urgent need for home care. She takes comfort in knowing she has lots of support to offer. Not only patience and empathy, but also local resources that will enable them to stay put until they are past the point of spreading the disease, allowing others to keep safe.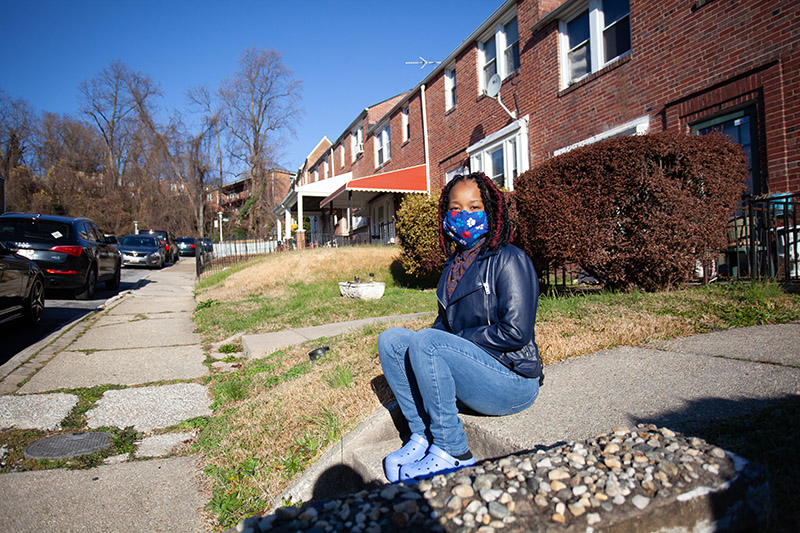 She also appreciates that her supervisor and team at the Baltimore Health Corps are available, even after hours, to support her in all facets of her job—which she hopes may lead to full-time work in some other capacity once the pandemic is brought under control. By providing contact tracers with career and legal guidance, the city is working to assure that the temporary contact tracing positions evolve into careers in the future.
"This job actually helped motivate me to get up every day," Mann says, "to show up and make a difference by doing something that could help people."
---
Almost Methuselah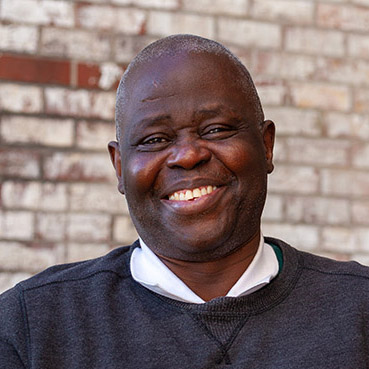 Joshua Emmanuel spends long days talking about COVID-19, gently insisting that people learn and accept cold, hard facts.
So when he describes himself as "almost Methuselah" (who lived to age 969), he gets a pass for his hyperbole. Humor, in Emmanuel's current line of work, is in short supply. Instead, he confronts fear, suspicion and denial—the likes of which he hasn't encountered since the early years of the HIV/AIDS epidemic.
Nigerian-born Emmanuel, who's 60ish, worked for decades across Africa, first teaching at the university level and then running an international development program in Botswana aimed at protecting children and youth—"the most vulnerable of whom were girls, orphaned at a very delicate age," he says.
"That's where I am most at home. I really gravitate toward the hurting."
Seeing parallels between the present and the past, between COVID-19 and HIV—which directly affected one of his own siblings—requires no great stretch of Emmanuel's imagination. But his current role as contact tracer does require he call on knowledge and skills acquired prior to moving to the U.S. five years ago with his wife and three daughters.
In a foreign country, with a recently empty nest—his last kid is away in college—Emmanuel felt free to explore his environs and search for new opportunities that would allow him to feel at home.
He contracted with Uber because he loves to drive "to all the nooks and corners of Baltimore." He wanted to see beyond the Brooklyn neighborhood where he first settled, which he fondly describes as "predominantly African American and closely nested." He liked talking to clients. When one inquired about his life, and pressed for details, he shared his resume, explaining that his "greatest joy was always putting a smile on the faces of those who are passing through rough experiences, and contributing to meeting the needs of those who were hurting."
This past spring, that same client reached out and encouraged him to apply to the Baltimore Health Corps.
Now, with the benefit of training and ongoing support from a collegial team that reflects the city's diversity, Emmanuel's helping to tamp down the spread of the highly infectious COVID-19, inspiring trust in those who admit they don't know who to believe.
Contact tracing can be satisfying work, he says. Fulfilling even. But it's also challenging, even for someone whose empathy quotient rivals his understanding of epidemiology.
There was the time Emmanuel found himself counseling a medical doctor who was cavalier about the disease and assumed they knew everything there was to know about COVID-19. (They didn't.) Add to that valiant attempts to engage individuals from an orthodox religious community—and being thwarted by deep-seated suspicions of the city government that he now represents, and a refusal to accept vital resources from "outside" their community. In these situations, city leaders, health care providers and outbreak investigators working with communities and institutions stepped in, helping to dispel misconceptions.
As the pandemic worsens and his workload skyrockets, Emmanuel digs deep into his past, calling on a contagious faith in the power of community outreach and social mobilization. With not a hint of hyperbole he says, "This is something we can stop. We can stop the spread!"
---
The Art of Contact Tracing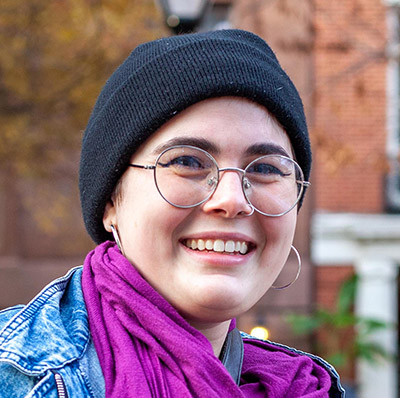 Olivia Brann loves the familiarity of her neighborhood.
Though she grew up on the city's northwest side in what she describes as the Park Heights/Pimlico/Pikesville triangle, she went to the Baltimore School for the Arts, near the high-rise in Mount Vernon where she now rents an apartment. She loves chatting with hardworking neighbors and supporting resilient small businesses: the local bodega; the boutique that sells made-in-Baltimore art; and not least, the Mount Royal Soap Company.
"They make the best-smelling hand sanitizer," she enthuses. "I'm obsessed!"
Soap and supporting local businesses are "super important, especially now in a pandemic," insists the 29-year-old. Since her own videography business took a hit when the theaters and performance spaces where she works were closed for safety reasons, Brann now spends her days earning an income by talking to strangers about all things COVID-19, not least of which is regularly and thoroughly washing one's hands—with local products, ideally.
"I saw that Baltimore City had this job initiative and it involved talking to people in your community," she says. "I thought this could be a good opportunity to not only educate myself on COVID-19, but help my community be better prepared to buckle down and ride it out for however long this takes."
A University of Maryland graduate fluent in English, Mandarin and Spanish, Brann enjoys the art of communication: "We have a lot of assistance to offer, whether it's helping people find out where they can get groceries, or making sure that they feel secure moving forward with their isolation or quarantine."
While a new sense of purpose has helped alleviate some of the loneliness she has felt during these many months of strict social distancing, contact tracing often leaves Brann seeking peace of mind after the last call of the day.
"My grandparents, bless their hearts, are 95 and 96, and meditate every day, so I call and we meditate together," she says.
Since her grandparents' ages put them at risk of serious illness if they catch COVID-19, and because she has friends who are immunocompromised and have underlying conditions, she takes precautions seriously, including having been tested herself a couple times. "The thought that I would get somebody sick . . . ," she trails off. "This is heavy stuff.
"It's really hard when you hear somebody say, 'If only I had not gone here or done this or that.' It breaks my heart."
Add anger and resentment to the stew of emotions, and it's understandable why contact tracers are trained to pace themselves—and often need to breathe deep.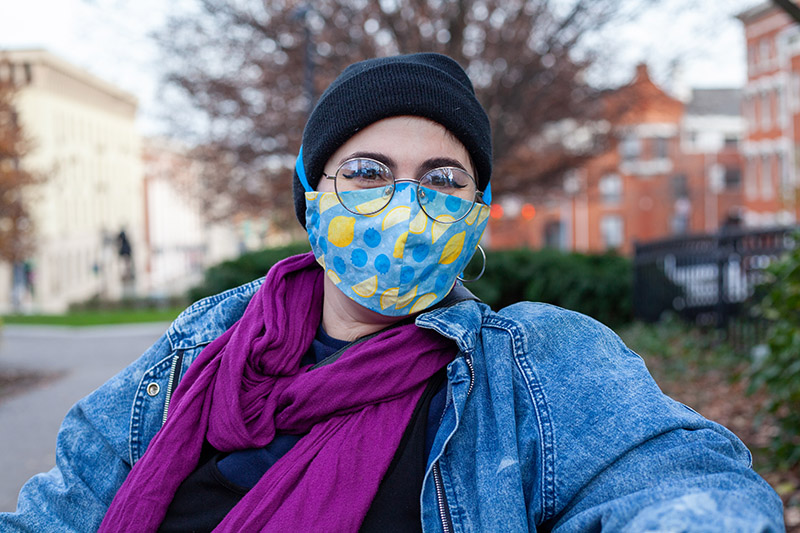 "I've had people ask, 'Well, who got me sick?!' And I explain they are not necessarily sick, that having been exposed to someone with COVID-19 doesn't mean that they have it," she says. "Then I tell them they do need to quarantine, just to be sure [to prevent transmission]. And that can be a very frustrating conversation."
The HIPAA Privacy Rule, which establishes national standards to protect individuals' medical records and other personal health information, prevents her from sharing the names of cases and contacts with each other.
Confidentiality and respect result naturally from "recognizing that these are people's lives," Brann says, "and just treasuring that. There's no judgment involved in my job, which is to keep people informed so that cases can isolate and contacts know how to quarantine.
"Baltimore is just an incredible place, filled with potential and art and culture," she says. "That makes my job easier, knowing that these are the people in my city, my home."
---
Photo credits: mural courtesy of Charm City Streets; portraits by Juliana Allen/Jhpiego
Jhpiego believes that when women are healthy, families and communities are strong. We won't rest until all women and their families—no matter where they live—can access the health care they need to pursue happy and productive lives.
Donate now!