The numbers tell an amazing story of health care providers striving to control the COVID-19 pandemic in Ecuador:
One million vulnerable people vaccinated
13 provinces reached
102 mobile brigades and health facilities contributing
5,550 members of the community trained in COVID-19 vaccine-related topics to counter misinformation
65 health care providers leading the vaccination strategy
To accomplish these remarkable results, teams of health care providers had to reckon with Ecuador's diverse geography—they trekked to remote communities at 12,500 feet above sea level and deep into the Amazon rainforest.
These results—realized in only five months, less than halfway through the program—come from the implementation of the national vaccination plan, which was developed by the Ministry of Public Health working closely with RISE, the Jhpiego-led, U.S. Agency for International Development-funded Reaching Impact, Saturation, and Epidemic Control project. RISE works with health care providers across the country to carry out the vaccination plan and promote efforts to achieve COVID-19 pandemic control. RISE also collaborates with local partners who are getting results by building sustainable, self-sufficient and resilient health systems.
Jhpiego assists these local partners as they deploy mobile brigades and stationary vaccination sites by providing personal protective equipment, aiding with human resources, coordinating logistics and mobilizing resources.
Team work, strategic planning and a strong vocation of caring for our community helped us to achieve a high vaccination rollout in a short time. Our public and private alliances were fundamental to reach the most vulnerable populations. We are still supporting the vaccination of first and second doses, while our country is [also] providing booster shots. Our work is meaningful as we are contributing to vaccination access for all."

Dr. Michelle Grunauer, RISE Ecuador, project director
To combat vaccine hesitancy, RISE staff in Ecuador deliver community health talks and educate health workers on COVID-19 vaccination topics so they can advocate for their clients to get the shots. RISE and the national vaccination plan have put special emphasis on providing access for marginalized communities, while never forgetting the importance of ongoing SARS-CoV-2 surveillance. In collaboration with Universidad San Francisco de Quito, the Ministry of Public Health and the Municipality of the Metropolitan District of Quito, RISE supports COVID-19 screening brigades to increase the number of test samples sent for genomic sequencing.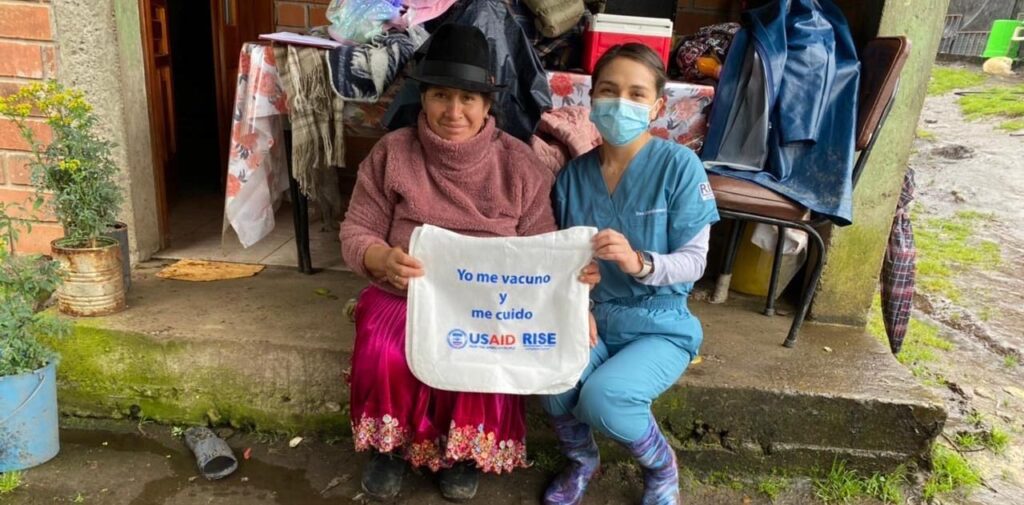 The comprehensive strategy to get to hard-to-reach communities and help vulnerable populations — including home bound seniors — has paid off. RISE helps with vaccination efforts in 13 of 24 provinces including in the Ecuadorian Highlands—12,500 feet above sea level—and in the farthest reaches of the Amazon, where health care providers travel by canoes, as villages are only accessible by river transport. RISE will continue to support Ecuador in these remote areas through 2022 and, in coordination with the Ministry of Public Health, will work to further all aspects of the national vaccination plan.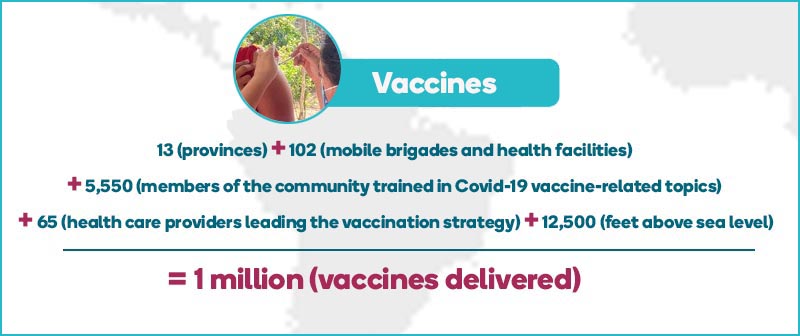 Olivia Harrison is the senior communications specialist for RISE USA and Kristel Camargo is the communications and public relations coordinator for Jhpiego Ecuador
Jhpiego believes that when women are healthy, families and communities are strong. We won't rest until all women and their families—no matter where they live—can access the health care they need to pursue happy and productive lives.
Donate now!