New Delhi, India — FPKonet, a knowledge hub built by and for family planning (FP) professionals, is India's first artificial intelligence-based platform focused on advancing improvements in FP and reproductive health (RH) services.
The FPKonet platform, conceptualized and developed by Jhpiego, a global health leader and Johns Hopkins University affiliate, debuted October 21, 2021, in the presence of key partners—including the World Health Organization India, United Nations Population Fund India, Ipas Development Foundation, EngenderHealth, Population Foundation of India, Hindustan Latex Family Planning Promotion Trust, PSI India, PATH, Pathfinder, Abt Associates SHOPS Plus, and iHAT.
Family planning is one of the key focus areas of India's Ministry of Health and Family Welfare, along with numerous nonprofits and civil society organizations. Experts and specialists in FP continually produce valuable knowledge on replicable and scalable models for corporations, social enterprises, public and private partners and nonprofits to learn from. But access to that knowledge remains a challenge, leading to duplication of efforts and even loss of critical knowledge.
FPKonet is designed to fill this gap. It will act as a one-stop shop, serving multiple roles of aggregator, collaborator and amplifier for all FP/RH knowledge in India. The digital forum will allow Indian nonprofit organizations to collate all available resources, categorize government guidelines on FP/RH best practices and norms, post relevant job openings, inform visitors of related webinars, events and gatherings across the country, and offer a discussion forum for specialists to reach out and support peers in the sector.
FPKonet was Jhpiego's winning idea in The Pitch challenge for the Asia region. Hosted by Knowledge SUCCESS with support from the U.S. Agency for International Development, the challenge invited countries to propose innovations to strengthen knowledge management in FP/RH. Jhpiego India was among 80 participating organizations from sub-Saharan Africa and Asia.
Dr. S. K. Sikdar, advisor for FP and maternal and newborn health in India's Ministry of Health and Family Welfare, launched the platform, congratulated Jhpiego, and said, "Family planning has gone corporate, which is going to add value in a very big way. Also, this gives us all an opportunity to build and grow on the camaraderie the Ministry has with all the agencies working in India."
Dr. Kamlesh Lalchandani, programs director at Jhpiego, called for a collaborative approach to make the platform a true success. "More than monetary investment, robust partnership and co-action is the way forward to accelerate this digital innovation's approach and widen the knowledge sharing spectrum on FP/RH in the country," he said.
FPKonet also is available through Android application stores. At present, the platform can be accessed over mobile and desktop browser, Twitter, LinkedIn and YouTube. The video recording of the launch event can be accessed here.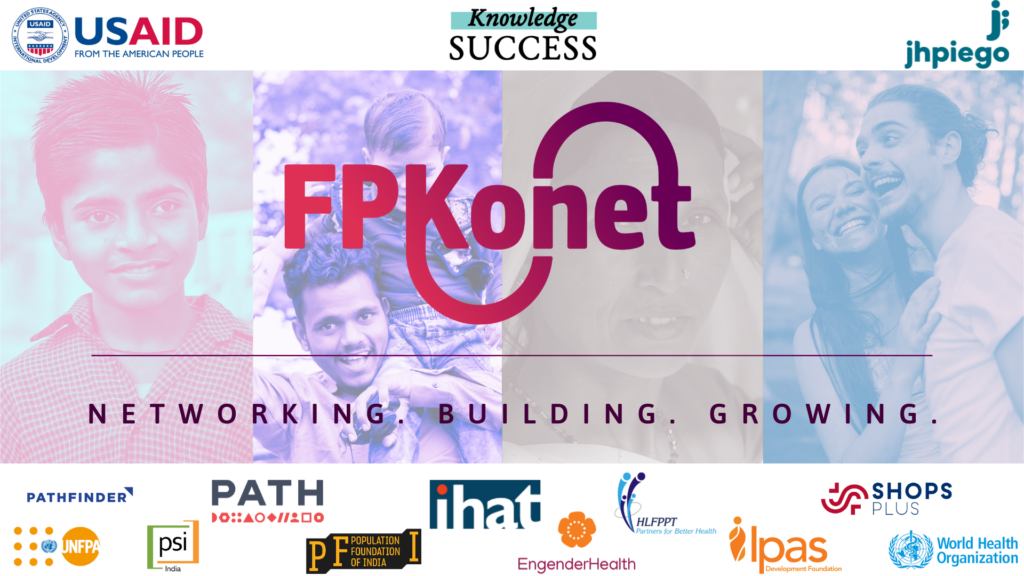 For more information, contact kamlesh.lalchandani@jhpiego.org